Our female entrepreneur today is Lenna Bansal, a fashion designer, NIFT graduate and the founder of Indibala, a manufacturer of stylish women's clothing. Indibala specializes in mid and high fashion clothing, such as kaftans, tunics, dresses and scarves. It was fantastic to hear Leena's journey from how she came up with her business idea to going global by creating and selling her designs around the world. She is an incredibly driven and inspiring female entrepreneur who has achieved a lot.
PLEASE TELL US ABOUT YOURSELF AND THE BUSINESS YOU STARTED.
I am Leena Bansal, a fashion designer and the founder of Indibala based in France. I am an alumnus of one of the reputed colleges in the world, NIFT, India, which was set up by the Government of India, in collaboration with the FIT, New York. 
I worked at designer fashion houses in Okhla New Delhi for more than a decade but something was missing. Even though I loved what I did, I felt a little disconnection in the way these big fashion houses were producing their garments and the values I believed in. 
Raised in India, I was well aware of the challenges of the textile industry: heavy use of toxic chemicals, poor treatment of labor, and negative environmental impact. That's why I felt compelled to start a Fashion House that is respectful to the consumers and the planet. Having lived in many countries, I got inspired by the diverse cultures and ethnicity of each one of them. 
My factory produces the collection for different brands, inspired by the colors, patterns, and ethnic prints mixed with their influence of contemporary designs and latest trends globally. As my journey kept on growing, I established a production house as per fair trade specifications. One thing which I followed strictly was the quality of my production and being transparent with all my clients. I realized that my clients liked being informed and I brought it into regular practice. 
I have a small family, a husband and two sons. My husband is an HR head in one of the reputed companies in France. I love nature so in my free time I love to go trekking and do camping. Along with Indibala, I love to support unprivileged children. Therefore, I am associated with an NGO called "Sukhibhava" in India and fulfill their basic need of books and infrastructure.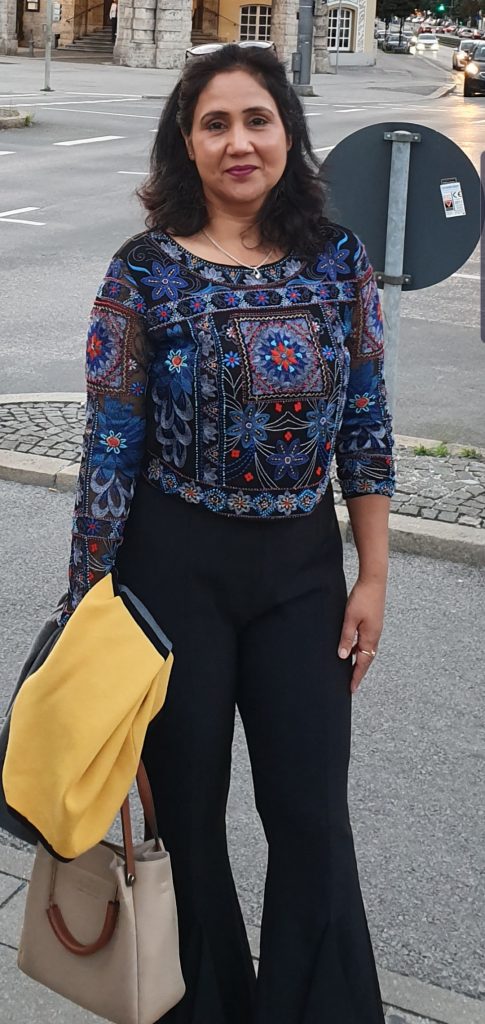 WHAT DOES YOUR TYPICAL DAY LOOK LIKE AND HOW DO YOU STAY PRODUCTIVE?
I am based in France and the factory I outsource from all my production for different brands is based in India. Because of the time difference I am at my office desk at 8.30 in the morning. I am a strong believer in mindfulness. I start my day with Yoga and meditation. This doesn't only energize me but also helps me in keeping focused and feeling grateful from inside as well as outside for myself and for others. 
PLEASE DESCRIBE THE PROCESS OF LAUNCHING YOUR BUSINESS.
I was 37 years old and my older son was leaving for his undergraduate program in the UK. One day he told me Mom "It's been so long since you have been consulting and teaching fashion students, why don't you have your own production house?" 
For a moment I didn't take it seriously, but it made me think, if not now then it will never happen. I have always been longing for designing and drafting patterns. I have a good understanding of different fabric qualities , follow fashion and know so much about the Fashion Industry. In a couple of days, I contacted my batchmates to find out what they are doing and to my surprise, few of them were running their own production house. After talking to them, one thing that I realized was, instead of having my own factory set up, I should outsource from the established factories. 
So I did a brainstorm session of business models, what type of styling, where to position my products, how to market them, what type of brands, in which geographic area, which segment of market and so on.
Before making the final decision, I decided to visit different trade fairs, where I've met lots of sales agents, different brand owners and suppliers from different parts of the world. This helped me in finding my niche product line of digital print kaftan. Being an Indian, vibrant print and colors have always been my soft side and I thought I would provide beautiful kaftans and kimonos to different brands. 
Now…..the first challenge was to get a solid supply chain. So I started creating a few ideas and the full concept of a summer range of kaftans. I visited Surat (Maharashtra, India) digital print hub, I met so many designers and developed a full range of Kaftan mood boards. 
Then the struggle started with the marketing. After 3 months of meetings and brainstorming sessions, I found a couple of B2B platforms to create my own B2B website on their portals, which was a start of my business.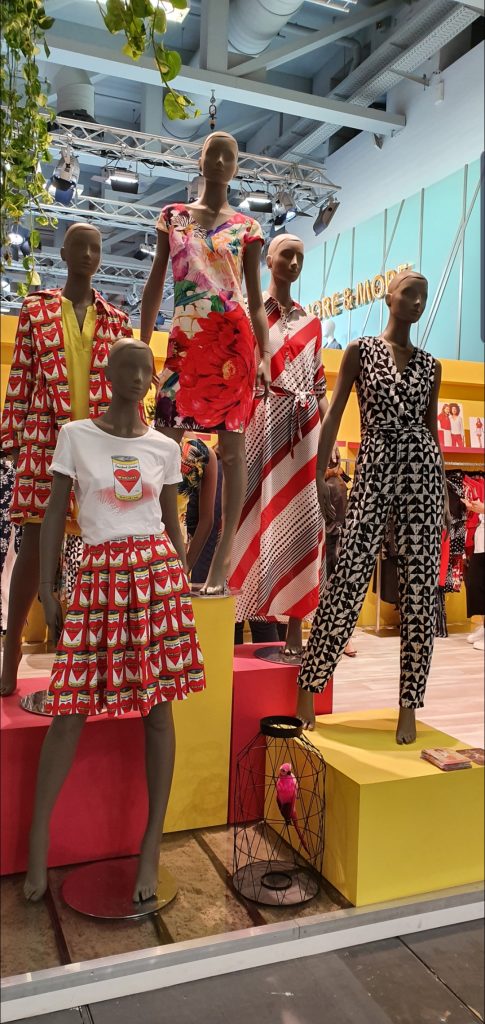 WHAT HAS BEEN YOUR BIGGEST ACHIEVEMENT AND YOUR BIGGEST CHALLENGE SINCE YOU STARTED YOUR BUSINESS?
I made lots of mistakes initially. I thought I have a great idea of a beautiful product line and I now just have to find out brands who are looking for an Indian supplier. But it was much more than that. 
When you are setting up a business, you need to take care of so many areas of business. First year.. every week was a new learning, new challenge . It took me almost 2 years to fully establish a proper supply chain and all logistics. Initially for the first 5 years, I kept producing for small brands but my first big supply was in 2016 when DK company of Denmark contacted me for one of their segments of ladies summer range. Since then we have been producing for so many big brands with great satisfaction and success.
WHAT STRATEGY DID YOU USE TO GROW YOUR BUSINESS? AND HOW?
I joined a couple of B2B platforms to get visibility, but I found it very slow and quite demanding. I narrowed down the countries as per my target customers and hired one sales rep there for the expansion. It took around three months for that sales rep to establish my company's presence there but it worked out.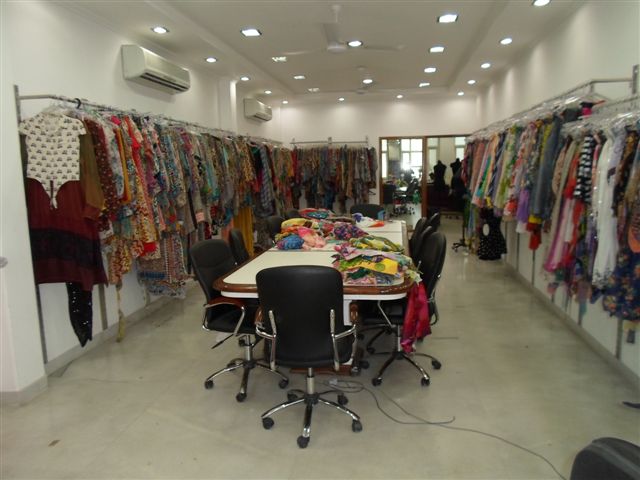 WHAT IS YOUR VISION FOR THE FUTURE OF BUSINESS?
I want to produce more for sustainable and organic brands. I have already started working in that direction. I have taken Gots (Global Organic Textile Standard) and fair trade certification for sustainable production.
RECOMMENDATIONS & FINAL THOUGHTS
ARE THERE ANY RESOURCES OR TOOLS YOU WOULD LIKE TO SHARE WITH OTHERS THAT HAVE HELPED YOU RUN YOUR BUSINESS?
Since my business is not directly in the retail industry, I  have focused on a few B2B portals like Indiamart, Alibaba and Tradeex. It helped me a bit to get a start and visibility. I attend trade fairs and networking events regularly. Meeting in person and showing your products can not be replaced by anything else. Also joining different business network groups has helped. 
WHAT OR WHO HAS BEEN YOUR GREATEST INFLUENCE IN BUSINESS AND WHY?
Camilla Frank is the diva of the kaftan world. My whole collection has been inspired by her hugely. I met her only once but the brilliance and detailing she creates with her prints and styling has influenced me a lot.
WHAT ADVICE WOULD YOU GIVE TO OTHER WOMEN WHO WANT TO START THEIR OWN BUSINESS?
Running a business is not an easy task. Unless you work with your heart, you will never succeed. I take each and every one of my clients very professionally. They all admire the way I make each and every step of their production. They feel satisfied when you keep them updated about their production. Trust is a very big factor in business and it leads you a long way. 
IS THERE ANYTHING ELSE YOU WOULD LIKE TO SHARE WITH OUR READERS?
After Covid-19, the situation is different. Right now, I am coaching and mentoring a few Emerging Entrepreneurs. I am also studying for a Coaching certification through ICF. Along with the production for my Clients, if required I can provide them with mentoring and coaching, as well. 
Since I am not a retailer and do not own my own factory, I had to find trustworthy factories, who can do different production without any faults, maintain the deadlines and satisfy clients' needs. It was a big challenge as I was running a buying office to support different brands. 
With local representatives the key behind any successful business is high professionalism and understanding with clients. I learned during my entire journey that if you want to be successful, the client should have a high level of trust in you and that builds by time. Don't keep short term goals in front of you, it will not lead you anywhere. 
Violeta Semenova
Founder
theBizLadies
Welcome to the Biz Ladies interview series!
If you're new to these series, I interview women entrepreneurs on how they started their business, what was the idea behind it, how they got where they are, the struggles, the reality and more.​
By sharing their stories, we want to inspire other women to get started.
​If you are interested to share your own story on the Biz Ladies LET ME KNOW!