Founder
ANS Design Studio / Astha and Sidharth
Our female entrepreneur today is Astha Sethi, a founder of ANS Design Studio and Astha and Sidharth, a sustainable fashion label from New Delhi, India.
It was great to hear Astha's story who followed her mother's steps and knew from an early age that she wants to be a part of the exciting fashion world.
Read on to find out more about Astha's journey.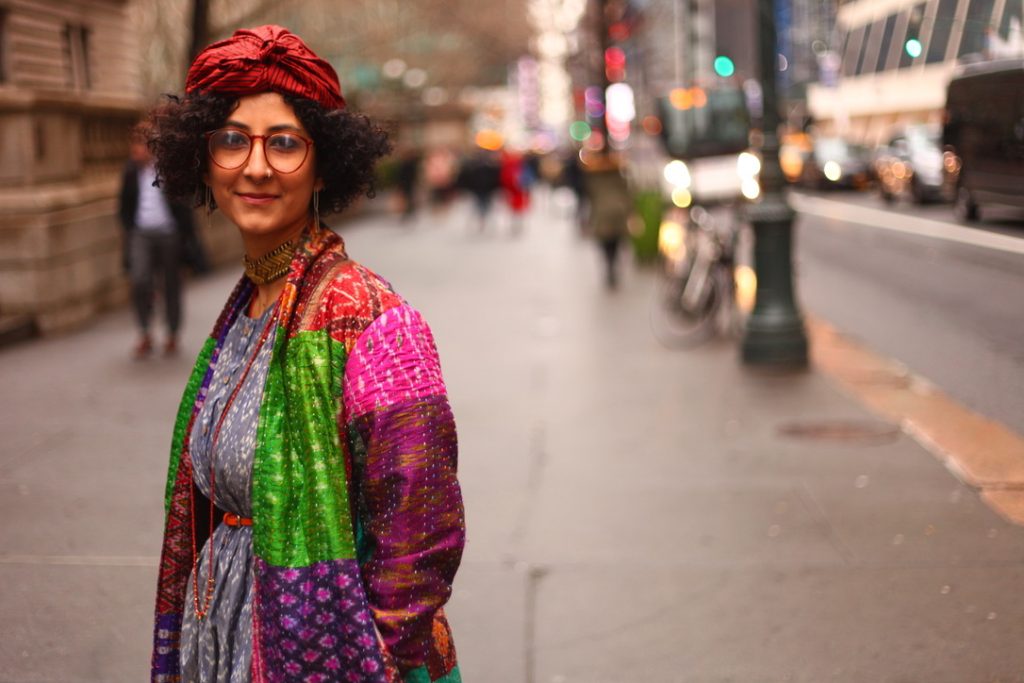 PLEASE TELL US ABOUT YOURSELF AND THE BUSINESS YOU STARTED.
There are various anecdotes from my childhood that reflected my inclination towards fashion 
From a very young age, I knew what I wanted to do for the rest of my life and a lot of that comes from my mother who ran a boutique that gave momentum to what I am today.
After taking formal education and working on various industry projects I started my design firm ANS Design Studio in 2011 but Label Astha and Sidharth came much later in 2015. 
Certain experiences stir your thought process and one such happened while I was on a road trip documenting a craft. The untapped goldmines of exquisite textile motivated me to use them in my work, that is how Astha and Sidharth came into existence.
WHAT DOES YOUR TYPICAL DAY LOOK LIKE AND HOW DO YOU STAY PRODUCTIVE?
I am trained in Hatha Yoga so the day starts with yoga and centering practices and that is the only thing that is consistent every day. 
The rest of the days are different from each other and I think that's what keeps the adrenaline rushing. Being an entrepreneur there are different situations to deal with every day.  
But the first thing that I do in the office is checking updates on orders as that is what keeps the business running.
PLEASE DESCRIBE THE PROCESS OF LAUNCHING YOUR BUSINESS.
I had a very strong affinity towards textiles and that deepened to an undreamt depth while traveling across my country India.
I try and break the banality of a craft to make it more relevant to a global audience consecutively generating more work opportunities for the craft clusters and encouraging the younger generation to adopt their inheritance by giving the remuneration it deserves. 
I started this with my husband and we named it ANS Astha and Sidharth. It is not just a label it defines us. 
We bootstrapped the business with most of our savings from the previous projects.
When I started out it was all about the joy of making your own textiles. The liberty and exclusivity it gave me as a designer was exhilarating and deeper I went in I realized the repercussion of our actions was much wider. 
Our fashion brand is positively impacting 7 crafts clusters paying ethical wages, generating more employment, and producing zero carbon footprint.  that was euphoric 
I am euphoric to say that our products that come from the remote villages of India sell in more than 50 stores across the globe.
WHAT HAS BEEN YOUR BIGGEST ACHIEVEMENT AND YOUR BIGGEST CHALLENGE SINCE YOU STARTED YOUR BUSINESS?
The biggest achievement is the positive impact that we have made on the lives of so many individuals and artisans, which has enabled us to strengthen our supply chain.
Also the most challenging is to convince the textile or craft creators to break free from the aesthetics that they have been dwelling on for years, to make it more relevant to the current trends.
WHAT STRATEGY DID YOU USE TO GROW YOUR BUSINESS? AND HOW?
Omni Channel's presence is our strategy to forge ahead. We participate in various B2B events internationally and D2C domestically. Our designs have evolved with customer experiences and the strength of our company is the team and the brand ethos which are exactly translated in our work. Everyone in our office believes in living a balanced life with the least wastefulness. 
We are focused on specialty stores around the globe that thrive on beautifully crafted hand made products and the objective is to further penetrate into that segment.
WHAT IS YOUR VISION FOR THE FUTURE OF BUSINESS?
The effect of the pandemic is ubiquitous and our strategies are changing every week but our vision is to reach 150 PODS in the next 2 years + 2 big-box retailers. The consumer is getting more conscious and it is likely to increase post-pandemic.
We are also in the process of building our own eCommerce so that the brand narrative can be put forth more explicitly.
RECOMMENDATIONS & FINAL THOUGHTS
ARE THERE ANY RESOURCES OR TOOLS YOU WOULD LIKE TO SHARE WITH OTHERS THAT HAVE HELPED YOU RUN YOUR BUSINESS?
While attending training in Design schools I was never taught the business jargon. Being a creative person, the right side of the brain is more dominant so for me, books have been a great way to balance between the logical and creative side of my brain. 
One book that was quite helpful for me was "Creative strategy and the business of design" by Douglas Davis.
WHAT OR WHO HAS BEEN YOUR GREATEST INFLUENCE IN BUSINESS AND WHY?
Travel Travel Travel (now virtual)!
WHAT ADVICE WOULD YOU GIVE TO OTHER WOMEN WHO WANT TO START THEIR OWN BUSINESS?
I think self-actualization is extremely important when starting out. 

Realize what is that one thing that makes you the happiest when you do it and turn it into a business.  

A musician must make music, an artist must paint, a poet must write if she is to be ultimately happy. What a woman can be she must be – Abraham Maslow.
Violeta Semenova
Founder
theBizLadies
Welcome to the Biz Ladies interview series!
If you're new to these series, I interview women entrepreneurs on how they started their business, what was the idea behind it, how they got where they are, the struggles, the reality and more.​
By sharing their stories, we want to inspire other women to get started.
​If you are interested to share your own story on the Biz Ladies LET ME KNOW!