Co-Founder
Matsidiso South Africa
Today our female entrepreneur is Jinae Heyns, a digital marketer by profession, a world traveler and a proud co-owner of Matsidiso based in Cape Town, South Africa.
She co-founded Matsidiso, an ethically made shoes and accessories brand with modern designs inspired by the diversity of Africa, together with her husband Christiaan.
On top of that, she is making a positive impact on the lives of Matsidiso artisans and their communities. Jinae's passion and ambition are infectious. I hope you feel it too while reading her amazing story.
PLEASE TELL US ABOUT YOURSELF AND THE BUSINESS YOU STARTED.
How we started: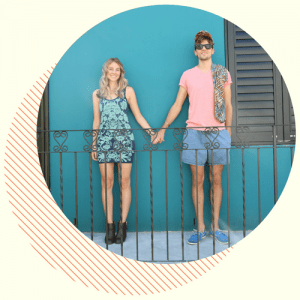 Hi, my name is Jinae and I'm an American from Seattle, Washington.

While living in South Korea / traveling Asia, I met my now-husband and business partner Christiaan. Before I ever knew that we would be married, he told me about his mom's shoes factory in South Africa. At the time, it had been struggling as the dance industry had seen a lot of changes in SA. Before ballet and dance were prerequisites in school, now they are more of a luxury than a part of the normal curriculum. She needed more help back at the factory, and basically, after a very long story shortened, we decided to move to South Africa and do just that- help in whatever way we could to keep the business alive.

After aiding in the digital marketing side of the business (that was my career before), I began to fall in love with the manufacturing and factory lifestyle. I loved the ability to create something from my head and see it come to life on the other side.

Christiaan's mom was very supportive of letting me play around in the fabrics and be a part of the process, which I'll always be very grateful for because as an American the option to ever be a part of a factory was not in my realm of possibilities. It was enchanting. I also loved the factory team and their genuine and honest ability to speak frankly. They were cheeky and fun then, and they still are now, and really do feel like family.

After hearing their stories and knowing what areas they come from (most from quite harsh areas in the townships), I also wanted to do anything to ensure at very least their jobs were secure.  My mother-in-law has cared SO much about keeping the business alive- she has spent 15 years of her life dedicated to it day in and day out on her own and I knew it would be devastating for her to lose it.

Because the factory already had ballet footwear and Latin/ Ballroom line, making shoes was the obvious choice. Further, Christiaan's mom had always wanted to make shoes because she saw the potential as the barrier to entry the footwear industry was high and there weren't a ton of options to buy locally made footwear.

After another long story short, and two years of deliberation on whether or not to start a footwear company (plus leaving a job after a year that I didn't exactly enjoy), it was finally time.

I spoke with my husband and mother-in-law and asked if they trusted me to start a brand… and that was the beginning! We started our venture in May  2017.

Origin of the name:

Matsidiso is Sotho, meaning 'comfort after difficulty'. Seeing as I am not Sotho, and an American at that, and Matsidiso is quite a specific name that many South African's aren't familiar with, I'm not exactly who our customers are expecting when they first meet me.

The origin of the name started with Christiaan's mom. She told me a story from her childhood. She was the child born after a miscarriage, and her Sotho family named her Matsidiso (comfort after difficulty). She grew up in the Free State during the apartheid era, unfortunately. However, she told me about how she walked to school with her Sotho friends, (she is Afrikaans), and there wasn't the same segregation at the time as there was in the cities. In fact, learning Sotho in school was mandatory. 

Her story gave me chills. I loved the idea that in such a dark era in SA there was still hope, and in some places, real friendships between people that otherwise would have been divided.

Matsidiso was an obvious name, and thereafter developed into a whole movement within our company about creating hope, possibility, and essentially freedom (what should be an innate human right).
The fact that the factory was failing, and we had an opportunity to turn it around with footwear gave us hope. Creating a safe workplace for a team meant liberation for members that sometimes fear going home.

I also wanted to create a brand that celebrates the diversity of South Africa instead of creating a brand about myself. South Africa is full of such beautiful cultures, and people really do make a place. South Africans are warm, loving, humble and compassionate. I wanted to create a brand that celebrated that, and that hopefully, builds a community around the education of each culture so that individually we can understand one another better, which is where I believe the healing in SA will ultimately come from. If we can understand each other, we can work together.

This is where 'Shoes For The Liberated' began. It was a slogan that supported the name Matsidiso. We ultimately want to create a brand that brings liberation to our team, our community through social impact, and to our brand community by showing compassion and appreciation of each other's cultures. Ultimately, we don't care about just 'selling beautiful shoes' but we actually want to make a real difference.

Liberty, freedom – they are such powerful concepts and our innate human rights. Freedom is what we all seek. Our brand is about exploring the word and really digging into 'what is real liberation?'. From exploring the concept within our business to externally speaking with our Matsidiso community, we want to use liberation as a tool for empowering others long-term.
WHAT DOES YOUR TYPICAL DAY LOOK LIKE AND HOW DO YOU STAY PRODUCTIVE?
I have no 'typical' day honestly! Each day is spent in different ways, some days are based on the development of new designs, some on photography and lifestyle shoots, others on email marketing, creating ads etc. Because there are a number of things happening each and every day, I have themed days and a blocked out schedule.

For example: On Mondays my theme in marketing and sales- so no matter what I focus my time on these activities and break them up into 30-minute blocks.
Fridays are for photoshoots and finance, so again, break up my day based on these time blocks.

Time blocking allows me to not get overwhelmed, to actively see my progress and to have clarity on my day :).
WHAT HAS BEEN YOUR BIGGEST ACHIEVEMENT AND YOUR BIGGEST CHALLENGE SINCE YOU STARTED YOUR BUSINESS?
Biggest Achievement: My biggest achievement is that I feel I am actually making an impact. I love my team, I love my work- I feel rewarded daily in getting to live out a creative life with ongoing learning and new challenges.
Biggest Challenge: My biggest challenge is taking place right now. How in the world will we make it through this world crisis and corona-virus? I'm not one to easily give up- and I genuinely believe in community and its great power. So I am currently developing a local business mastermind in SA via a WhatsApp group where we can share ideas to boost sales and keep each other positive and afloat.

In general and in the past, I think my greatest challenge is that I've always wanted to move much faster then things happen. Sometimes I'm impatient and forget that the process is the point. There is perfection in the journey, not in the end result- because frankly, the end result doesn't exist unless you plan on selling or exiting your business. It's always a work in progress.
WHAT STRATEGY DID YOU USE TO GROW YOUR BUSINESS? AND HOW?
My background was digital marketing before Matsidiso, so my natural inclination was to go online. However, we have two shops now as I can definitely confirm that in South Africa, where many still want to shop in-store, both are necessary and feed into one another.

I'm currently using:
– Google Ads
– Facebook / Instagram Ads
– SEO Strategies
– Networking
– Trade Shows
– Wholesale

as some of the ways to grow our business. It has definitely taken a LOT of time to get down all these channels – all which are still a work in progress. But the main thing is to not overwhelm yourself and start with just one.

If you're on Shopify, use Shopify Academy for free courses. They are amazing!

We are so lucky to have so much knowledge at a click of a button. But what we are hindered by is the overwhelm of choices and advice. Just pick one thing, put on your blinders and stay focused. Eventually, you will see progress! 
WHAT IS YOUR VISION FOR THE FUTURE OF BUSINESS?
My main vision would be to hire more underprivileged youth in South Africa and teach them the footwear trade. I want our artisans to FEEL like artisans, not just a part of a labor force where their self-worth and self-esteem are low, or where they live on wages where they feel stuck. I want Matsidiso to be known as the best place to work in South Africa by 2022! I believe by creating a healthy and happy culture, that will translate to our customers and onward.

Further, the big dream would be to have a few flagship stores around the world in major cities where we have projectors of our team making the shoes. I want the visitors to feel like they are a part of the experience in South Africa and to intimately know or understand our factory. I was to share and educate that we aren't just making shoes, and that their purchase is truly making a difference.

I hope to get our team out of gang-ridden areas that they currently live in, to support them and their children with their education, to actually advance our team and help them thrive. 
RECOMMENDATIONS & FINAL THOUGHTS
PLEASE RECOMMEND ANY RESOURCES AND TOOLS THAT YOU USE TO RUN YOUR BUSINESS.
MOZ / Neil Patel: SEO
Shopify Academy: All the things!
Ezra Firestone: Email Marketing
Fiverr: To get resourced made or assistance with any biz things at a great price. 
WHAT ADVICE WOULD YOU GIVE TO OTHER WOMEN WHO WANT TO START THEIR OWN BUSINESS?
Firstly, on a personal note, trust yourself and everything will follow. You have instincts for a reason…so if it sounds hectic to try and start with little cashflow, perhaps find a part-time job or take baby steps during your full-time job to begin your journey without diving in with no financial backup.

You have the answers in you, your gut will tell you! Believe in yourself and your vision. In the beginning, it's also very easy to fall into self-criticism and self-doubt, so catch yourself when your mind gets carried away with any negative self-talk.

In truth, you need a lot of gumption to do business. It's not always easy, but it's very rewarding. The sooner you start being good to you and have your own back- the better.

Masterminds and groups that can support and uplift you are amazing to help you through your journey! Networking is huge, and so helpful when you have any pestering thoughts. Just know, we all have them! But the more resilient you can make yourself and the more knowledge you can gain as you go the better.

Focus on the process and not profit only. Yes, profit is important, but it's not the only focus. If it is you'll burn out. Make sure you have a strong why for what you are doing, and trust the process. 
WHAT BUSINESS IDEA DO YOU HAVE THAT YOU ARE WILLING TO SHARE WITH OTHERS? 
So many things! 🙂
1) Turn your knowledge into a course. Something I'm going to do once I have breathing time from Matsidiso. Online education is a growing industry!
2) Service-based business: Can you consult? Teach? Connect people? 
3) Affiliate marketing for small and ethical brands or for online courses you love and can vouch for? 
Thank you for opening up your platform and for allowing us to share our story! ♥️
Violeta Semenova
Founder
theBizLadies
Welcome to the Biz Ladies interview series!
If you're new to these series, I interview women entrepreneurs on how they started their business, what was the idea behind it, how they got where they are, the struggles, the reality and more.​
By sharing their stories, we want to inspire other women to get started.
​If you are interested to share your own story on the Biz Ladies LET ME KNOW!