Travel, Lifestyle, Fashion, Beauty
From giving her sleepless nights to being the reason to wake up, Jinal Inamdar is sharing her journey as a social media influencer.
HOW DID YOU GET YOUR START AS AN INFLUENCER AND HOW DID YOU DECIDE ON AN INDUSTRY FOCUS?
I have always been a very ambitious woman. Right from when I was a little girl, I knew in my mind I wanted to do something that I am someday able to hone, own and be proud of. But I also knew I had to work very hard towards reaching this ultimate goal. Social media off late has picked up massive momentum and it wasn't this way a few years ago. 
When I was a bit younger, social media influencers weren't a big thing. But photography, fashion, styling, travel were genres that people would delve into to showcase their expertise, by means of photographs or even blogs. Having an inclination towards photography, I began clicking more pictures than I usually would and started to post on my Instagram. I received instant love and appreciation and it kept motivating me to do more. For about two-ish years, it was just my passion for photography that had me remain committed to posting regularly, and by then I thought it would be nice to grow in a niche. I would post images of my travel and that inspired so many people. 
Gradually, I began taking 'clicking pictures' more seriously and thought of it as content. My father bought me DSLR, I self-taught my ways around it and would post more often. I wanted to sharpen my skills and I knew travel photos and fashion were two of my strong pillars. I began creating more content under this umbrella and well, here I am now. I am now drawing bills off my passion and that makes me happy and feels like I am able to make the most of what I'm good at. I have a very long way to go, this is just the beginning.
HOW HAS YOUR LIFE CHANGED SINCE BECOMING AN INFLUENCER?
A lot of people know me and look up to me. That only means, a lot of responsibility has increased. When people are inspired by what you do, and they look up to you in more ways than one, you know you owe them something worth looking up to. I feel like my thirst for creating content has only grown more and more and I am happy to be in that space because it motivates me to wake up each day and push myself to do more. 

WHAT'S BEEN YOUR BIGGEST CHALLENGE AS AN INFLUENCER?

There have been different challenges. 
As a social media influencer, I still face challenges each day. Today social media platforms and content on it are not like before; the social media industry has grown and everyone is a creator in one way or another. People have been generating the content, some good and some even better. To create a niche in such a congested industry has been a challenge for me. To pave your path, create your loyal audience and then catering to them is a big challenge itself. 
Also, on a personal level, I've always received unnecessary feedback like why do you want to put your life out there. It's personal. The world doesn't need to know what you do and where you are. It was definitely a bit discouraging. But people come around when they see you grow and if they don't, that's ok too. Being a brand by yourself on social media isn't a conventional job and I understand that.  People just respond to what they have been used to seeing as a 'normal job' or even an 'important job'. However, I have always trusted the process, I still do and I have always had faith in my abilities. My ambitious nature can scare a few people, but it can't stop me from wanting to do and deliver more.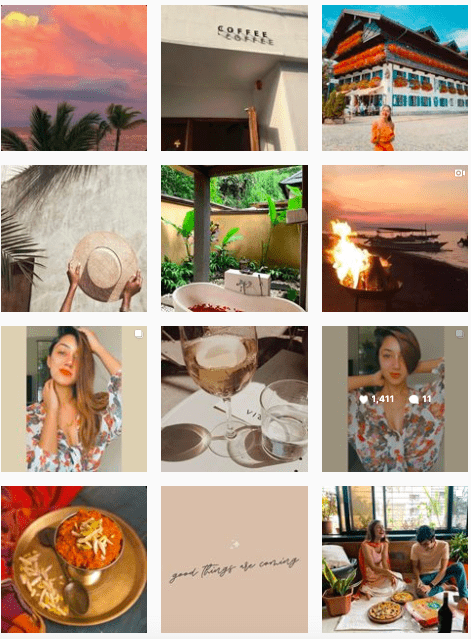 LET'S TALK ABOUT GROWTH ON INSTAGRAM. YOU WENT FROM 3000 FOLLOWERS TO OVER 16,000 IN 3 YEARS! HOW DID YOU DO IT?

Growth as I always say, in the world of social media isn't instant. It's gradual. And that's what I like about it. When growth is gradual, you have the chance and medium to interact with your audience at every step. You can grow your connections stronger and it helps to understand your viewer sentiment even better. With a sudden large influx in followers, it would be difficult to gauge what they are coming to you for. I feel right now, I am able to understand and draw so much from my followers. I try and look out for what they like in my content and what I must do to grow more followers.

As I said, consistency and the thirst to put out content has been my driving force. Even when I had 3000 followers I would be as dedicated to posting on time and even today I am equally dedicated to post and create on time. Self-discipline and dedication have been my strongest pillars in social media growth. I've been patient and continue to be. I do not intend on having overnight growth in followers as that would be too overwhelming for me to be able to handle. This steady growth process helps me keep my head in its place.
WHAT'S MOST IMPORTANT TO YOU WHEN PURSUING BRAND PARTNERSHIPS?

Content. For me, brand collaborations are mostly about what I am able to create by partnering with someone and merging their product with my expertise. Brands need to understand that we have to make a living as well, and if we have a good following now, it is because we have been working for years to create a particular brand image. It serves as an investment by the brand, just like any other traditional form of advertising, as a single Instagram story can contribute to a significant increase in sales.

Regardless of whether you are a veteran in this field or fresh off the starting mark, bloggers most frequently encounter requests from brands for barter deals, to receive a free product in exchange for posting about it. When you are just starting out, it is okay to focus on building a relationship with brands and PR representatives, but I would encourage new bloggers to know their worth when working on a collaboration. 
Barter deals for free clothes, bags, sponsored trips and makeup are all good, but you can't eat lipstick for lunch. Know what you have to offer, and accordingly decide the value that you can bring to a collaboration. Also never ever do what you are good at, for free or never settle for less.

As for me, whenever a brand writes in to say that they'd like to send something over, I have established a protocol wherein my manager writes back with a polite disclaimer to let them know that coverage isn't guaranteed. If I genuinely like the product, I can choose to share it with my followers over an Instagram story or post. It helps to clarify things beforehand so that both sides know what to expect going in.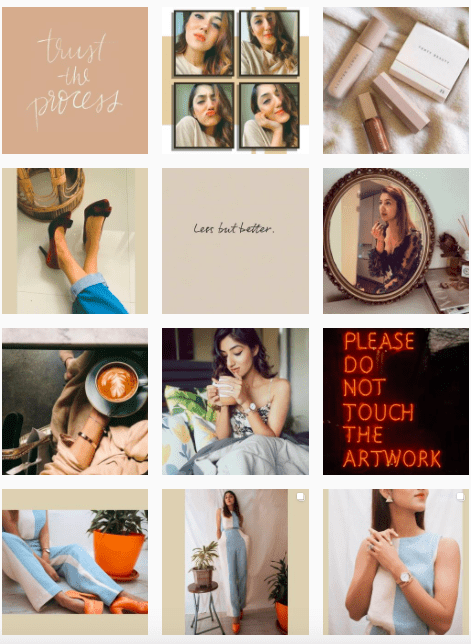 WHAT IS THE BIGGEST OPPORTUNITY FOR YOU AS AN INFLUENCER?

For me, the biggest opportunity would be able to represent a brand and simultaneously, be able to represent myself to my audience. It's great when an audience trusts your sell and buys things off you. To be able to market products not just well but in the truest and most honest form, is what I'd call a good opportunity.
Also, being invited or called to represent a big brand who trusts my quality of work, is a big opportunity. 
IS THERE ANYTHING ELSE YOU WOULD LIKE TO SHARE WITH THE BIZ LADIES AUDIENCE?

The success of a blogger hinges on their ability to have a direct connection with the following they have amassed over the years, and you want to ensure that your audience can still relate to the person who inspired them to hit the follow button in the first place. Stay true to yourself and always remain motivated in the best way possible. Motivation and consistency can take you to territories you didn't even know you could conquer. 
Violeta Semenova
Founder
theBizLadies
Welcome to the Biz Ladies interview series!
If you're new to these series, I interview women entrepreneurs on how they started their business, what was the idea behind it, how they got where they are, the struggles, the reality and more.​
By sharing their stories, we want to inspire other women to get started.
​If you are interested to share your own story on the Biz Ladies LET ME KNOW!