As a small business owner, growing an online presence can be tricky especially if you have no prior marketing background and no budget to blow on paid advertising (SEM) or influencers.
So, there's only one rule to remember when it comes to organic growth on social media:
Content is king, but distribution is queen, and she rules the platform!
This literally translates to, creating content is so important, but nobody will see your content or profile if you don't distribute it around the platform. It is absolutely essential to make sure you have as many eyes on your content as possible! The more traffic you have, the more conversions you can make later on. 
So, making sure your content gets distributed and seen is the key to growing your online presence. This is where SEO skills come in, to help you be seen and rank online. SEO is an acronym that stands for search engine optimization, which is the process of optimizing your account to get organic, or unpaid, traffic from the search engine results page.
Google started as a search engine and now is a huge tech giant, their search engine today includes all: maps, news, images, videos, shopping, flights, books, and finance. Whereas Instagram's search engine now includes: top, accounts, tags, and places. In 10 years' time for sure, Instagram is going to be a massive platform, that's why it's a good idea to grow your account and treat it like your digital real estate.
Most people will be familiar with SEO for websites and blogs on google, but many people forget that social media also works as a search engine and everyday people are coming to Instagram for inspiration, entertainment, information, etc. Always remember to treat your Instagram like a search engine, because it is! 
Keep reading to find out how you can optimize your Instagram account and grow your online business without paid advertising or influencers!
1.Optimizing Instagram Bio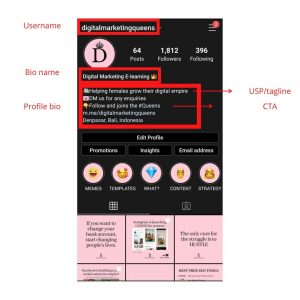 a. Username
First things first, your username should reflect your brand clearly. It should be simple and straight-forward, try to avoid using any special characters if it's not part of your official brand identity. 
When you keep your username clear and simple, this will make it easier for your current customers and audience to locate you on Instagram. If your username is already taken, then the next best thing would be to add your location.
For example, if you wanted to use @thebizladies, consider using these instead:
@thebizladiesusa, @thebizladiesnewyork or @thebizladiesnyc
Or, if you have a personal brand and (for example) wanted to use @derishaviar, consider using these instead:
@thederishaviar, @derishaviarofficial or @iamderishaviar
Ultimately, try keeping it as professional as possible while still making it as relevant as possible to help the search engine drive users to find you easier. 
b. Bio name
One of the biggest rookie mistakes when it comes to Instagram marketing is when you re-write your entire username in the bio name.
Well, unless you are @kyliejenner or @kyliecosmetics then maybe it can be considered clean and tidy… But, most of us are not a billionaire with millions of followers, fans, and press checking us out everyday organically.
c. Profile bio
Here you have 150 characters to make or break it, this space will determine if someone checks you and converts to a follower or leaves your profile and potentially never see your profile ever again. So, make it count!
Speak to your ideal customers/clients, use the language and slangs they speak, include keywords relevant to your brand.
d. USP / tagline 
What is your Unique Selling Point? What makes YOU unique compared to all the other accounts out there? What makes you stand out?
Many corporate companies will have a tagline ready for their brand that communicates their mission statement.
If you don't have a corporate tagline, use your own mission statement! What is your mission or goal? This is also known as the 'mini elevator pitch' or 'I help' statement.
This statement, if crafted correctly would include relative keywords such as 'target audience' as well as 'outcome/end goal'. Which, should all be keyword enriched and ultimately helps the search engine understand what your profile is about.
e. CTA
Similarly as mentioned above, make sure your call-to-action is enriched with keywords you want to be associated with. The more you can help the search engine and algorithm, the more it will in return favor you to the right audience.
2. Optimizing Instagram Posts
a. Geotags
At the very top of every post, there is an option to add a Geotag. This option is only available if you allow Instagram access to your location settings on your device.
Do you know in-depth about your target audience? Do you know where they hang out and spend their time?
Great, so now that you know where your target audience is, that's where YOU should digitally be appearing, as in your posts! This means, use these locations in your Geotags so your posts show up in these locations and your ideal customers could potentially discover your content while browsing!
b. Keyword enriched captions
For the caption, make sure you are not only using a few emojis because that won't help the AI categorize what your content is all about.
Be sure to fill your captions with as many niche related words as possible so Instagram will be able to categorize your account and promote it organically to those who have interacted with similar accounts to yours.
c. Niched hashtags
Do not use spammy hashtags such as #likeforlike, #followme, #followforfollow, or other irrelevant tags that will not bring you and quality followers. 
ONLY use hashtags related to your niche and to your post. Except, you may use viral hashtags that are currently trending such as #stayathomesaveslifes due to the current pandemic or #10yearchallenge that was trending at the beginning of the year due to timely matters.
d. User-tags
Who are the big accounts in your niche? Who is your post related to?
When you tag an account, your post will show up on their 'tagged posts' which will ultimately bring in their followers and free traffic to your account. Use this feature wisely and be ready to ethically 'steal your competitor's followers'.
e. Alt text
Most people who have a blog or website would be familiar with alt text or alternative text, this is the text that appears if for some reason the image can't load and is also used for the visually impaired so the AI can describe your image to them. 
Search engines are blind! So, they will automatically generate the alt text based on AI. But, we have the power to input our own alt text to help the AI better understand what our image is all about. Thus, allowing Instagram to better understand our content and show it to the right audience.
Don't forget SEO is a marathon, not a sprint!
Once your profile and posts are well optimized, the algorithm will start to understand more about your account and will start showing your content to the right audience. This is why SEO is also so important for Instagram. You want to be creating content and be shown to your ideal audience, don't you?
Derisha Aryawan is an Indonesian Female Entrepreneur as well as Chief Marketing Officer at Day Horizon Marketing and founder of Digital Marketing Queens. She is the go-to girl for all things social media!
When she is not working on her laptop she loves listening to electronic dance music or pampering herself with a manicure or hair spa. Her guilty pleasure is spending hours at the beach and just sunbathing.