Go-Global Strategist and Founder
RB Consulting
Joining us today is lovely Roshni Baronia, a Go-Global Strategist and Strategic Sales Expert helping women build sustainable and global businesses.
Roshni is the founder of RB Consulting which is a sales and strategic planning advisory boutique firm. She tops up as a TEDx speaker, author of the ebook 'How to revolutionize your Sales mindset' and creator of "Solopreneur Sales Planner". 
Roshni is on a mission to enable limitation free entrepreneurship to women so that they can claim their place at homes and the world.
Read on to find out more about Roshni's journey.
PLEASE TELL US ABOUT YOURSELF AND THE BUSINESS YOU STARTED.
Hi, I am Roshni Baronia, a certified Strategic Sales Expert who is helping women scale up their success. I am the host of Ace the Sales Podcast which helps you bring your true and authentic self to each sales conversation. I am the author of the ebook "How to revolutionize your sales mindset" and creator of "Solopreneur Sales Planner". 
I am into the consulting business providing sales and strategic planning advisory to women-led startups and SMEs. I also coach solopreneurs and business leaders to help them bust their biggest business challenge be it around sales, growth, planning, or productivity. 
This however is my second business. My maiden business was an e-commerce venture where with a team of ten we designed, manufactured, and retailed personalized gifting products. I launched it in 2009 thereafter running it successfully for six years before I shifted gears to follow my calling of building a purposeful business. I moved into the current consulting business in 2016 to be a catalyst in the growth journey of women entrepreneurs. 
For me, entrepreneurship was the only career choice because it was the only thing I'd ever wanted to do as a child. My father is a serial entrepreneur and looking at him, I too dreamt to own my business one day. While I did not get the chance to pursue a formal business education, I continue to take up diverse training programs, coaching, and online courses which make me better today from who I was yesterday. I also learn from books, peers, and my teenage son ( you cannot underestimate the brilliance this generation has! ) 
WHAT DOES YOUR TYPICAL DAY LOOK LIKE AND HOW DO YOU STAY PRODUCTIVE?
My typical day starts at 5:30 am with my morning ritual which includes working on my mind, body, and soul. The next few hours go into attending the home chores before I hit my home office desk at 9: 30am. 
The early hours of my workday are the most productive and this is when I do all my creative and strategic work. All my client work comes in this slot. The second half is for client/sales calls and admin related stuff if any. To keep a check on my performance and how I am achieving my goals, I use indigenously designed planning systems and self-reviews.
PLEASE DESCRIBE THE PROCESS OF LAUNCHING YOUR BUSINESS.
I got into sales and strategic planning advisory as I have been observing a lot of my friends from the entrepreneur forums and groups struggling to grow their business. And this was primarily for two reasons – one is lack of business acumen because people are excellent in their core expertise but scaling up the business is at times beyond it. Secondly the fear of selling. A large number of women find selling to be a dirty, manipulative or difficult task. This certainly stalls their business growth. Hence I put together a solution for both problems and started my consulting business to help women overcome their sales fears, learn authentic selling, and get strategic with their business growth. 
But to move from a product-based online retail business to a service-based offline B2B consulting business was not easy for me. It took me time to work on my niche services. Once that was done I consciously worked upon building my personal brand around it. And the third thing I did was to get a coach who helped me through the process of transformation. Changeovers are not easy and it helps to have a coach and a close group of business buddies who can hold that space for you.
WHAT HAS BEEN YOUR BIGGEST ACHIEVEMENT AND YOUR BIGGEST CHALLENGE SINCE YOU STARTED YOUR BUSINESS?
One of the proudest moments for me as an entrepreneur was when I got to share my entrepreneurial journey on the TEDx platform as a means to inspire young girls and fellow women and spread the idea of having women changemakers in every home. Another best moment was when I was featured amongst the Top 20 woman consultants of India by Consultant Review magazine. These achievements are special for me because not only did I toil hard for them, but also because they fuel further passion in me to stay the course with the work I do. 
The biggest challenge I come across as an entrepreneur is to find good resources to add to my team and the quality of work that agencies deliver.   
WHAT STRATEGY DID YOU USE TO GROW YOUR BUSINESS? AND HOW?
A business strategy is an amalgamation of multiple skills, systems, and functions. Everything has to work in tandem but the one strategy which I would like to highlight here is to focus on my Planning and Productivity. It is of high importance for any entrepreneur, more so for solopreneurs and women, to be very mindful of the time and output they get in their business. 
That has been key to my success. I have clearly defined goals and at any point in time, I know what is my focus area, what I should be working on, what results I am expecting out of it. For each quarter of the year, there are specific goals that I have, and my marketing, sales, and admin tasks are aligned to those goals. Also, I make sure I track some of the key business metrics which help me to take strategic decisions and pivots in the plan. 
WHAT IS YOUR VISION FOR THE FUTURE OF BUSINESS?
My business vision is guided by my life purpose and how I see myself contributing to this human ecosystem. And the work I currently do is aligned to it. When four years back I had this realization that I have to be the catalyst in other people's growth journey, I found that my business at that time, which was an e-commerce business in personalized gifting, did not align with the vision. And hence I had to make this strong choice of shifting my entire business and get into consulting where I choose to work with women entrepreneurs. 
In the coming years, I see my business and my voice reaching and influencing women and giving them the solutions and encouragement to start their business or take it to greater heights. I have recently joined the Leadership Network of Entrepreneur Magazine. To have such an opportunity through which I can influence millions of people is a huge responsibility. I see my business having more such power-packed collaborations and great clients to work with in the future.
RECOMMENDATIONS & FINAL THOUGHTS
ARE THERE ANY RESOURCES OR TOOLS YOU WOULD LIKE TO SHARE WITH OTHERS THAT HAVE HELPED YOU RUN YOUR BUSINESS?
Multiple books have been great tutors for me. A few to name are "Power and Force" by Dr. David R Hawkins, "Start with Why" by Simon Sinek, and "Power of Vulnerability" by Brene Brown. 
There has always been a big space and respect for the coaches whom I have worked with at different stages of my business and life. So having a coach definitely helps. 
The digital tools that I regularly use are Google Cloud, Evernote, and Asana. My personal Sales Planner is the one tool that helps me manage my business growth.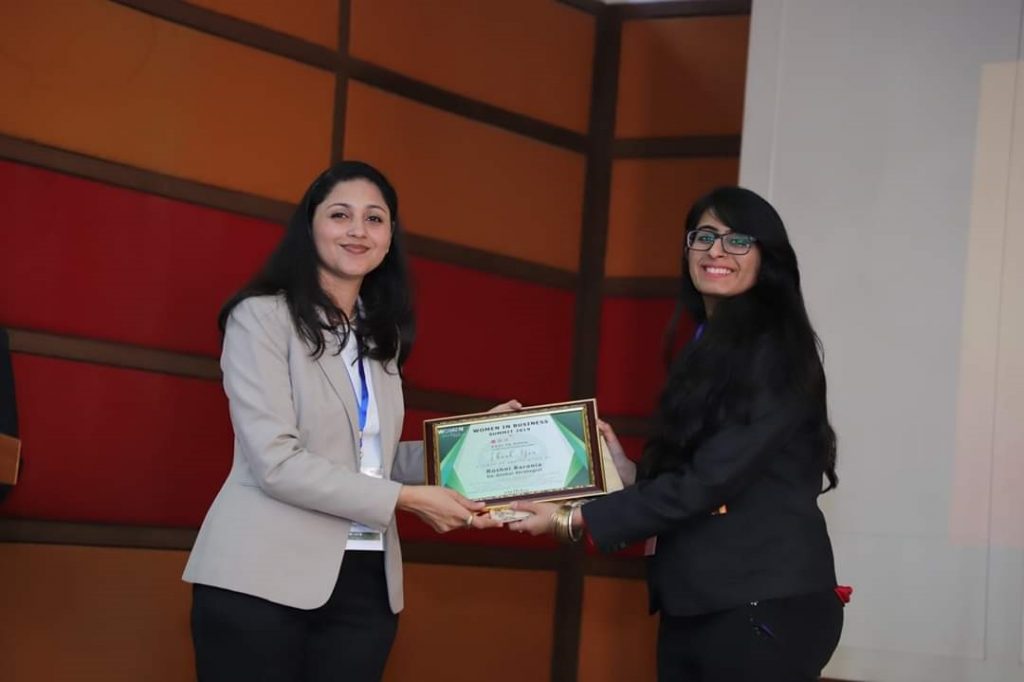 WHAT OR WHO HAS BEEN YOUR GREATEST INFLUENCE IN BUSINESS AND WHY?
We are in a fortunate time when we have many female role models to inspire us. I am especially influenced by the work and thought leadership of Kiran Mazumdar Shaw, Indra Nooyi, Brene Brown, and Sheryl Sandberg for the lessons of perseverance and tenacity they showcase through their life and choices made. 
WHAT ADVICE WOULD YOU GIVE TO OTHER WOMEN WHO WANT TO START THEIR OWN BUSINESS?
Never give up on your dreams no matter how long it takes before you take the first step towards getting started with them. And once you do, be persistent with taking everyday actions. Soon enough you will see that your dreams have taken the shape of goals, and once you start accomplishing your goals, you start actualizing your dream.
WHAT BUSINESS IDEA DO YOU HAVE THAT YOU ARE WILLING TO SHARE WITH OTHERS? 
I love the way Etsy has given a platform to homepreneurs and creative makers. I wish to take it to another level by making it a B2B sourcing platform for women and home-based businesses. So women who showcase pop up stores at home or participate in flea markets/exhibitions can source their stuff from other home-based artists and makers. Instead of going to wholesalers, both the supply chain and value chain is made of women entrepreneurs. 
IS THERE ANYTHING ELSE YOU WOULD LIKE TO SHARE WITH OUR READERS?
There is much conversation about Imposter syndrome and that women somehow are more susceptible to it. I would like to say to every fellow fempreneur who faces it, that having this syndrome is good. It just shows that you are pushing yourself out of the comfort zone. You are doing something massive. Feed on this discomfort because your growth lies outside your comfort zone. 
Violeta Semenova
Founder
theBizLadies
Welcome to the Biz Ladies interview series!
If you're new to these series, I interview women entrepreneurs on how they started their business, what was the idea behind it, how they got where they are, the struggles, the reality and more.​
By sharing their stories, we want to inspire other women to get started.
​If you are interested to share your own story on the Biz Ladies LET ME KNOW!