Founder
Eternally Cherished
Erin Parnell began her business in 2018 and is now a finalist for the Great British Entrepreneur of the year awards. The founder of Eternally Cherished began creating unique jewellery made with intimate keepsakes, after having her daughter. Since starting Eternally Cherished, Erin has been working full time alongside running her business.
PLEASE TELL US ABOUT YOURSELF AND THE BUSINESS YOU STARTED.
I'm Erin Parnell, I'm a Mum and I'm from Basingstoke in Hampshire. I am the Company Director of Eternally Cherished. I decided to become an entrepreneur because Elara, my daughter, unleashed something in me I never knew I had. I always knew about business because that had been my job but I had never really been creative, not since school (let's not think about how long ago that was)! I started the business after my own experiences of breastfeeding, it was hugely rewarding but I also felt the mental and physical strain. Lots of Mums will know how painful it feels when breastfeeding doesn't come naturally. I wanted to find a keepsake to remember mine and my daughter's journey. I began browsing the internet for a token to remember breastfeeding and became somehow convinced that I could make one myself.
Eternally Cherished is my bespoke award-winning jewellery and gifts shop. I craft people cherished items into stunning pieces of jewellery for them to have forever. I began my business two years ago when I started looking online for a keepsake to remember my own breastfeeding journey. I saw a few beautiful pieces but I wanted to do something for myself, this is what inspired me to begin my journey as an entrepreneur. 
WHAT DOES YOUR TYPICAL DAY LOOK LIKE AND HOW DO YOU STAY PRODUCTIVE?
I'm so lucky that I love what I do because it definitely keeps me productive! Working on Eternally Cherished doesn't feel like work, which means I am able to prioritise the business. I think I manage to stay productive because I just keep on going! I do have rest days here and there but I know that Eternally Cherished is my end goal, so it will all be worthwhile. I still work full-time and I have a three-year-old, so my days are long and can be tiresome. I plan to leave my full-time job to completely focus on Eternally Cherished, I can't wait for that moment and I know it will be so worthwhile when it happens.
My day starts at 5 am but usually, I am awake from 4:30 am. I leave for work at 5:40 am as I have a long commute to my day job, it's 72 miles. I don't get to see my daughter in the mornings and after spending so much time with her during the lockdown, I am really missing her and it's racking on the Mum guilt big time! It's usually 6:45 pm when I get home, I rush upstairs so I can watch Cbeebies with my daughter. I have dinner between 7:30 pm and 8:00 pm and then I usually respond to customer inquiries, do bits in the workshop, or work on admin! 
I get into bed around 9:30 pm and try to sleep so I don't wake up too exhausted the next day. Sometimes I can shut off but often I lay there mulling over life and all the universe! This goes on for 4 very long very tiring days, where I see my daughter for 30 minutes or so in a whole day. Trigger Mum guilt again! Breaks my heart but I know it isn't forever, I know it's a means to an end.
PLEASE DESCRIBE THE PROCESS OF LAUNCHING YOUR BUSINESS.
I began my business in 2018 when I started looking online for a keepsake to remember my own breastfeeding journey. I saw a few beautiful pieces but I wanted to do something for myself, this is what inspired me to begin my journey as an entrepreneur. When other Mum's saw what I'd made, they were all really interested so I decided to give it a go! I didn't need to purchase much to begin with, as it was just moulds and jewellery online, and I'd made it back within my first sale! 
I had my first sale two years ago, from a Mum in the north of England. I really couldn't believe how far away it was. I actually had to make it 3 times before it worked but eventually, it came out perfect. Once I had posted it to the customer I waited and I waited, that was when I received my first review 5* review. She absolutely loved it and I can't tell you how good that felt. Then I knew how important this was to me. My logo is a purple heart, as that was the first piece I ever made, and the E within the heart is for my daughter, Elara. I came up with the business name because I wanted to highlight how my pieces are things that customers can cherish forever, so after lots of hunting through a thesaurus, I landed on Eternally Cherished.
WHAT HAS BEEN YOUR BIGGEST ACHIEVEMENT AND YOUR BIGGEST CHALLENGE SINCE YOU STARTED YOUR BUSINESS?
I feel like my biggest achievement so far is being recognised by publications and award nominations. I am currently a Finalist for the Great British Entrepreneur Awards and I'm also a Finalist for the Woman Who Achieves awards. It's so fantastic to be recognised as an entrepreneur and it definitely keeps me going! I also feel very proud to have had the opportunity to feature in publications like Vogue, Tatler and now The Biz Ladies. It all makes me feel like I'm moving in the right direction. 
My biggest challenge can be finding the time to work on the business, spend time with my daughter and work a full-time job. This means that life is pretty busy but I know it is my passion and it won't be forever. Happy customers make my busy schedule worthwhile! Another one of my biggest achievements is that I've never had a negative review. Of course, I've had customer complaints, who hasn't, but I'm so pleased that they have been dealt with in ways that still leave the customer happy! I am always happy to work on any problems or issues that customers may have had. 
WHAT STRATEGY DID YOU USE TO GROW YOUR BUSINESS? AND HOW?
I'm so proud of how far the business has come. Eternally Cherished sales have doubled year after year, the average sale being £60. Currently, I only employ myself but after watching the business go from strength to strength, my end goal is to be able to quit my day job and work on Eternally Cherished full-time. Last year I was awarded a Government start-up loan, after submitting my business plan, to expand my business and purchase a laser engraver. This was unbelievably helpful as it's totally enhanced the quality of products that I can offer to my customers.
My strategy has always been to keep the customer in mind and focus on them! That will always be my main rule and my customer promise. I lovingly hand make each item and treat every piece as if it was my own, which I feel is the best strategy. At the moment, I just employ myself but my partner is beginning to help me more and more! I'd absolutely love to employ more people who are equally as passionate as I am about this business. I truly believe that my business will continue to perform exactly how it needs to and I can't wait for the next step. For the moment, I'm putting much of the profit back into the business to keep it growing and evolving but I can't wait to do this full time.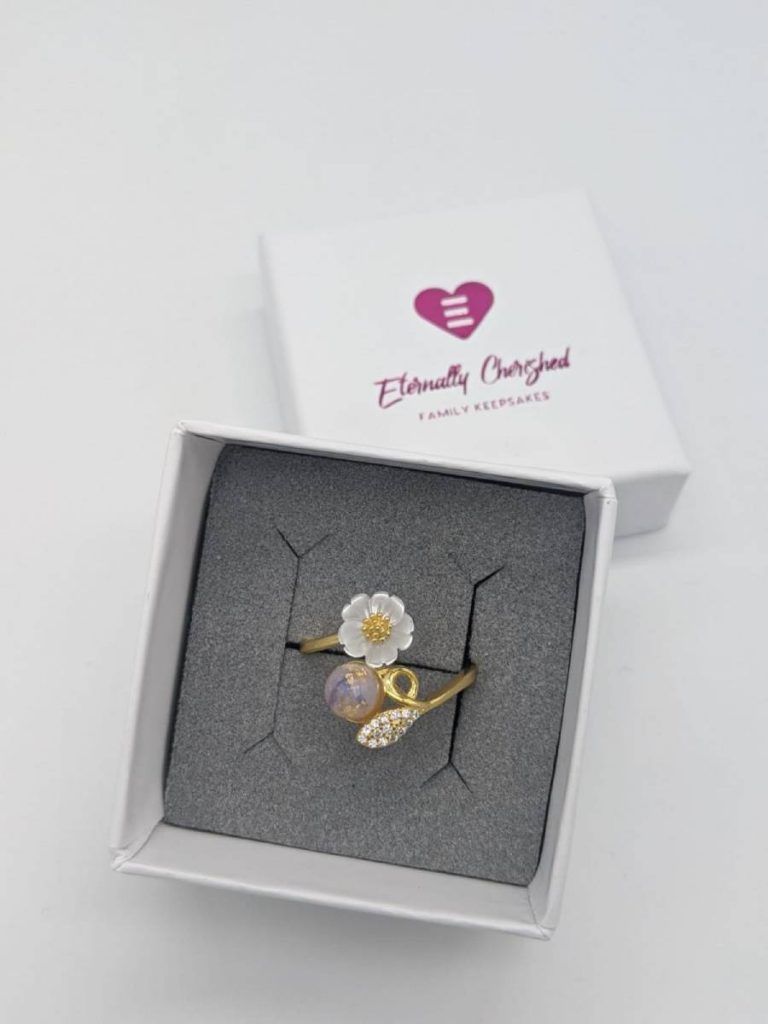 WHAT IS YOUR VISION FOR THE FUTURE OF BUSINESS?
Two years ago, I had no idea that I would end up accomplishing so much I am really excited to see what the future holds for Eternally Cherished. It's extremely important to me to keep the personal element of my brand but I also want the business to grow. Currently, I only employ myself but I'd absolutely love to employ more people who are equally as passionate as I am about this business. I've invested over £40,000 – £50,000 back into the business so that I can continue to grow and expand it in the future. My end goal is to sell my jewellery across the world and I hope I'll achieve this by focusing on it full time. I feel very lucky that something I am so passionate about will be my main job.
RECOMMENDATIONS & FINAL THOUGHTS
ARE THERE ANY RESOURCES OR TOOLS YOU WOULD LIKE TO SHARE WITH OTHERS THAT HAVE HELPED YOU RUN YOUR BUSINESS?
My biggest and most valuable resource throughout launching my business has certainly been having the opportunity to network with other women in business. When I started the business, I joined groups like Hampshire Women in Business on Facebook, to meet and connect with new businesswomen. I wanted to find a space where I could ask for advice from like-minded people and that's exactly what I have now. Networking groups have been totally invaluable, as they are not only my cheerleaders but also my advisors! Practically, GoDaddy was also fantastic, as I was able to set up my website with total ease. 
WHAT OR WHO HAS BEEN YOUR GREATEST INFLUENCE IN BUSINESS AND WHY?
My daughter inspired me to start my business and she continues to inspire me every day!  My family and the fantastic customers that I create pieces for are my biggest influences. Receiving happy reviews and knowing how much my jewellery means to customers is undoubtedly a huge influence on my work! 
WHAT ADVICE WOULD YOU GIVE TO OTHER WOMEN WHO WANT TO START THEIR OWN BUSINESS?
To other women who want to start their own business, I'd say it's absolutely necessary to find your tribe! I know for myself, it's so important to have cheerleaders around me and people who are going to support me. Even small things like having the right people to read your blog, congratulate you on an award nomination or give you honest feedback!
As I have mentioned, the networking groups were such a crucial part of my process. It's important to find like-minded people and they don't necessarily have to be in the same stage you're at! I surround myself with strong women who have business mindsets and I find it so valuable to bounce ideas off them.  
WHAT BUSINESS IDEA DO YOU HAVE THAT YOU ARE WILLING TO SHARE WITH OTHERS? 
I have always wished that there was an entrepreneur start-up course! When I started Eternally Cherished, I longed for a tool kit to help me begin a business. I needed to know things like SEO, Social Media, Marketing, Influencer Relations, Building a Website and loads of other things that were completely unknown to me! I've now got my head around these things but I would have hugely benefited from an Entrepreneur tool-kit, that covers everything! 
IS THERE ANYTHING ELSE YOU WOULD LIKE TO SHARE WITH OUR READERS?
Something that made a massive difference to me was the wonderful #IamRemarkable training. I Am Remarkable is a Google initiative empowering women and other underrepresented groups to celebrate their achievements in the workplace and beyond. This encouraged and empowered me to have the confidence to not be put down, to not just make the coffees because I'm the only woman in the room, and to have faith in myself. A lot of women don't have that confidence but there is no good reason for us not to! 
Violeta Semenova
Founder
theBizLadies
Welcome to the Biz Ladies interview series!
If you're new to these series, I interview women entrepreneurs on how they started their business, what was the idea behind it, how they got where they are, the struggles, the reality and more.​
By sharing their stories, we want to inspire other women to get started.
​If you are interested to share your own story on the Biz Ladies LET ME KNOW!