Our inspiring entrepreneur today is Derisha Aryawan, founder of an organic beauty brand DVA Organics, from Indonesia.
Her business venture was started out of her health challenges; 2 years ago, Derisha developed Lupus, an autoimmune disease that almost ended her life. She realized that she had to change her lifestyle and stop using chemicals and toxic ingredients. While recovering from her disease, she started experimenting with natural ingredients and that's how her business venture with DVA Organics has started.
Being a digital marketer, Derisha runs several more businesses. She is a Co-founder and a Chief Marketing Officer at Day Horizon, a data-driven digital marketing agency. As well, she is currently launching Digital Marketing Queens, an e-learning platform and community for female entrepreneurs.
PLEASE TELL US ABOUT YOURSELF AND THE BUSINESS YOU STARTED.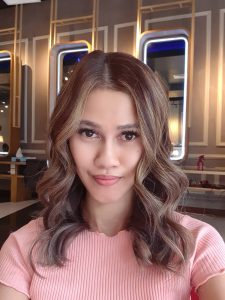 I graduated with a Bachelor of Arts in Mass Communication majoring in Journalism and minoring in Marketing Communications. I started my corporate career writing for various international publications such as Harper's BAZAAR, DJ Mag and Lifestyleasia.com. After studying and working in Kuala Lumpur, I decided to move to Bali for some soul-searching and to be closer to the beach. During my time in Bali, I worked at El Kabron Cliff Club, Sky Garden and Serenity Eco Yoga handling their Digital Marketing Campaigns.

In 2018 I was diagnosed with Lupus Auto-Immune Disease and was admitted to the hospital for almost 2 months. Being the self-care junkie I am, I didn't stop pampering myself! One day, my doctors told me to STOP using chemicals and toxic ingredients so it doesn't kill my immune system. I knew that I had to change my lifestyle as well as my beauty. That's when I started experimenting at home with natural ingredients to stay naturally beautiful. I was determined to achieve a beautiful lifestyle and clean beauty without toxic chemicals. Combining traditional and ancient beauty secrets with a modern, organic lifestyle, I created DVA Organics. I believe in clean beauty and I will strive to spread awareness that we don't need toxic chemicals to stay beautiful.

As I started getting back on track mentally and physically, I began doing digital marketing consulting services and realized that this was my calling to help other female entrepreneurs grow their businesses online. I was getting many messages personally regarding digital marketing so I decided to start Digital Marketing Queens, an e-learning platform and community of business babes. Recently, I joined forces with my high school mate and we started Day Horizon, a data-driven digital marketing agency where I am currently Co-Founder and Chief Marketing Officer.
WHAT DOES YOUR TYPICAL DAY LOOK LIKE AND HOW DO YOU STAY PRODUCTIVE?
I wake up at 7 am every day. I always start checking emails, messages and DM's if there's anything important I need to get back to. I never miss breakfast and I always drink hot ginger and honey in the morning. After breakfast I begin checking social media notifications, reading recent news and doing client work.

Sometimes I'll go out for lunch and make a quick stop at the salon to do my hair if I have a meeting or event. If not, I try to make content for my personal brand in the afternoon as the natural light is best. I try to stay inspired and motivated by consuming content, as an entrepreneur I love to always learn something new.

I usually go out for dinner, after dinner I'm usually back in-front of my laptop and try to get as much work done as possible. I've already felt I'm most productive during the night after I have had a good meal, done my self-care routine, got inspiration from other people or online and feel more relaxed.
PLEASE DESCRIBE THE PROCESS OF LAUNCHING YOUR BUSINESS.
I do not come from a business background, neither do any of my family.

During my recovery period at home, I had absolutely nothing to do and nothing to lose. I was already at the worst point of my life, the only thing that I enjoyed was self-care routines but I couldn't go out to do it. So I was just experimenting at home with natural ingredients for fun, it was like therapy to me! It was soon so addicting that I was spending hours and hours online researching for benefits of different ingredients and all that stuff! Before I knew it, I was ordering more ingredients to test out as well as small batches of packaging, eh?

Then I started to give out some samples to close friends and family, they loved what I made and encouraged me to start a brand. The fact that people actually valued me just gave a little push to actually do it, at the end of the day, it's something I really enjoy doing like how other people enjoy cooking!

That's when I started getting serious about branding and launching a small business because I just told myself that there's nothing that could possibly go wrong! I was already in a really bad spot in life and if it doesn't sell I can just use it all myself because it is all natural and no side-effects!

The name is just a representation of my initials, DVA. But it also spells out 'diva', and that's how many of my friends describe me. Because I'm such a diva and so obsessed with self-care, so having it self-named was no question for me because it represents my own healing process and my own therapy. If I haven't started this I might still be stuck in recovery as I had no positive activity in my life? Who knows.

As an entrepreneur, my goal is to sell a vision. My products were just to help me create the vision. My vision is to remind women that we don't need harmful chemicals in our beauty to stay beautiful. That's my ultimate goal.

If I wanted to make money fast, I would have done drop shipping or forex trading or network marketing.

I did not have any partners and I didn't hire any professionals. I did everything myself and was bouncing ideas to my dad most of the time in the beginning. After the launch, I started to outsource some things to make it easier as I do have other businesses and projects going on.

The feedback was great, however, most of the support I had was from the online female entrepreneur community.
WHAT HAS BEEN YOUR BIGGEST ACHIEVEMENT AND YOUR BIGGEST CHALLENGE SINCE YOU STARTED YOUR BUSINESS?
The biggest achievement for me was proving myself that I am a superwoman, with or without anyone I am capable of doing amazing things!

They thought I was going to die in the ICU, yet I came back against all odds and proved everyone wrong. In fact, I'm a better person now! I learned so many new things while launching my business and it improved my mental health so much!

The biggest challenge would be having a lack of support from friends.

I wish my friends in real life would have been more supportive. Very few said congratulations and even fewer actually bought my products to support. I wish society would be more supportive of small business owners, why is it a big deal when somebody gets married or gives birth but nobody cares when their friends launch a small business? Giving birth is harder than coming up with a business plan? Nah, I wish people would change their mindset and appreciate small business owners. I would say, everybody, CAN get married and give birth. But not everybody can launch their own business!

But, I am happy that I've made SO MANY new friends now and I am surrounded with people who inspire me to be a better person! I am so grateful to have connected with other hustlers!

WHAT STRATEGY DID YOU USE TO GROW YOUR BUSINESS? AND HOW?
I reverse engineered my business. Basically, I created a demand (the audience) before I created the product. So when I launched, I already had people interested and that way I could do more market research rather than waste money on things nobody was interested in.
WHAT IS YOUR VISION FOR THE FUTURE OF BUSINESS?
For the future, my goals are to be available worldwide and have distributors in countries around the world. I don't want my team to be so big, one day I just want a dream team of about 5 people and have everything else outsourced.

My ultimate vision would be to spread awareness that we don't need toxic chemicals to stay beautiful. Less is always more. The best ingredients are God-given from the earth, not man-made.

And, I also want to launch my e-learning platform Digital Marketing Queens and help as many female entrepreneurs as possible!
RECOMMENDATIONS & FINAL THOUGHTS
PLEASE RECOMMEND ANY RESOURCES AND TOOLS THAT YOU USE TO RUN YOUR BUSINESS.
So many but I love Canva for design, ManyChat for automated messages and Wix for my personal brand website! Pinterest is my absolute fave for brainstorming and gathering ideas, I can't believe it's so underrated, I also just started my own business account there!
ARE THERE ANY RESOURCES OR TOOLS YOU WOULD LIKE TO SHARE WITH OTHERS THAT HAVE HELPED YOU RUN YOUR BUSINESS?
I watched so much Gary Vee in the hospital so DailyVee changed my life.
WHAT ADVICE WOULD YOU GIVE TO OTHER WOMEN WHO WANT TO START THEIR OWN BUSINESS?
Start now! Whatever vision you have, write it down and start brainstorming! You don't need to have a whole business plan ready but putting your ideas all out is so important. The faster you start, the faster you make mistakes and can learn from them.
Violeta Semenova
Founder
theBizLadies
Welcome to the Biz Ladies interview series!
If you're new to these series, I interview women entrepreneurs on how they started their business, what was the idea behind it, how they got where they are, the struggles, the reality and more.​
By sharing their stories, we want to inspire other women to get started.
​If you are interested to share your own story on the Biz Ladies LET ME KNOW!