Today our inspiring female entrepreneur is Emma Mathews, the founder of Socko, a sustainable socks brand from London, UK.
Emma has had an exciting journey, from art school to getting into the sustainable fashion market via advertising. She shares how she launched her brand of sustainable socks and showcased at London Fashion Week.
It's an interview you don't want to miss.
PLEASE TELL US ABOUT YOURSELF AND THE BUSINESS YOU STARTED.
Hi, I'm Emma. I'm a life-long maker and I'm passionate about the positive, mindful impact craft can have on our wellbeing. I originally studied graphic design at Camberwell Art School. I graduated in 2009 having knit my way through my final year (it was a very conceptual course…).
I moved to France for a couple of years still unsure of what I wanted to do career-wise but being free of the education system for the first time in my life. I came back to study a Master's and worked as a strategist in advertising.

My dream of Socko began when searching for meaning in my work. Socko is a passion project that expanded into a business idea. It combines my craft skills with my sustainability ethics to produce items that people want to buy.
I spent about a year in the research and development phase before launching at the end of November 2018. I've been amazed by the response so far and I'm just getting started!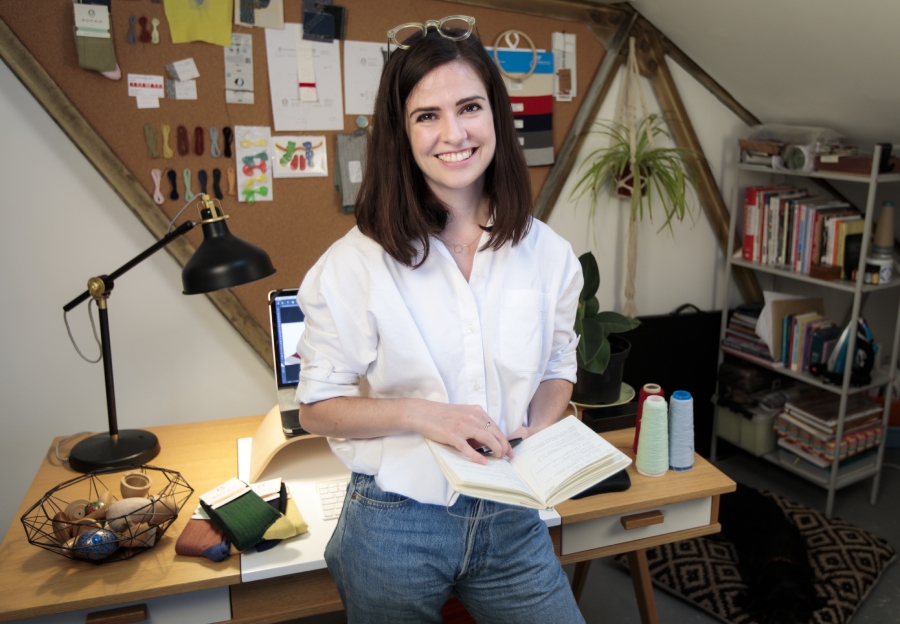 WHAT DOES YOUR TYPICAL DAY LOOK LIKE AND HOW DO YOU STAY PRODUCTIVE?
It's cliché but as the single person behind Socko, there is no typical day because you have to wear so many different hats. One day I'm in a world of finance, the next I'm dealing with manufacturers, the next I'm planning communications, the next I'm teaching darning workshops or talking on a panel. The list goes on.

An ideal day is when Alan the dog and I walk from home through the park to the studio. I'll have tackled any important emails before we leave so by the time I get to the studio I can package up orders and then get into the to-do list. I'm pretty organized with filing but I'm trying to get better at having a weekly routine.
One thing I find really useful is eating the frog with Pomodoro. This means starting with the task you least want to do and working on it for 25 minutes. Take a short 5-minute break then do another 25 minutes. If it's a big task, break it down into smaller chunks. Done is always better than perfect. That said it's easier to dole out advice than it is to take it!
PLEASE DESCRIBE THE PROCESS OF LAUNCHING YOUR BUSINESS.
Socko went from a Homeland-style wall of Post-its to a Limited Company quite quickly. This was mainly due to signing up to as much free business advice as I could. I absolutely started from scratch. Socko was entirely self-funded as I wanted to retain full control of the business, growing it organically and working at a manageable pace. The word 'socko' means 'extremely impressive or successful', which seemed to bode well, it also contains the word sock and is a riff on 'doggo' but most importantly it was available to trademark.

A lot of time went into and still goes into, sourcing suppliers and manufacturers who align with Socko's sustainability ethics. The word sustainable is used very liberally nowadays so now it's even more important to do your research. What's great about working with people in the UK is meeting face to face and building relationships. I spent a few days at the sock factory in Leicestershire learning to hand-link a toe seam. It gave me a great appreciation for the process and the people behind each stage of production.

One of the most important people I hired was my graphic designer Liam, who I used to work with in advertising. He's done a fantastic job on the Socko branding and website and is always my go-to. Unsurprisingly my background means I know the importance of brand and design. Liam's been the closest thing I've had to a business partner even if he's not financially invested in Socko.
WHAT HAS BEEN YOUR BIGGEST ACHIEVEMENT AND YOUR BIGGEST CHALLENGE SINCE YOU STARTED YOUR BUSINESS?
Biggest Achievement: It was a major coup to see our socks on the runway at London Fashion Week last year. They were in the Bethany Williams show – a perfect alignment of two sustainable fashion brands and a very proud moment.

Biggest Challenge: The biggest challenge is switching off. It's great to have a business that gets you up early and keeps you up late but it does make delegation and taking a break difficult.
WHAT STRATEGY DID YOU USE TO GROW YOUR BUSINESS? AND HOW?
Socko's growth strategy has relied on building a robust direct-to-consumer model. This gives us a better platform to tell the Socko story and really get to know our customers. Financially it also means we get a better margin. Things are scaling this year as we branch out into wholesale but as ever, it's an organic progression.

I thoroughly recommend the book Mission: How the Best in Business Break Through. Having a mission (to re-teach the lost art of darning) has been a constant north star for Socko. In a bid to continue with this mission we are in the process of building an online version of our darning workshops.
WHAT IS YOUR VISION FOR THE FUTURE OF BUSINESS?
My vision is to create a robust business model that can then be rolled out across other countries. It will remain single-minded, just socks, but will be done right. Ultimately I want to make a fully circular product.
Our recycled range, launching this year, is a great step in the right direction but we'll keep building as we learn and constantly strive to improve until we are setting industry standards of what customers expect and what real sustainable practice should be.
RECOMMENDATIONS & FINAL THOUGHTS
PLEASE RECOMMEND ANY RESOURCES AND TOOLS THAT YOU USE TO RUN YOUR BUSINESS.
G-Suite, Shopify, Mailchimp, Starling, Xero, ReceiptBank, SumUp, Adobe, Planoly, Hootsuite, Royal Mail Click and Drop.
WHAT ADVICE WOULD YOU GIVE TO OTHER WOMEN WHO WANT TO START THEIR OWN BUSINESS?
I'm going to pass on some of the best advice I got before starting Socko. I knew I wanted to make sustainable socks and the advice was that yes, sustainability is important but fundamentally they need to be a great pair of socks. My advice would be to have a point of difference that goes beyond being sustainable.
WHAT BUSINESS IDEA DO YOU HAVE THAT YOU ARE WILLING TO SHARE WITH OTHERS? 
I would love a dog-friendly map of London. All the cafés, pubs, shops and restaurants where paws are welcome. I'd also love for car riding apps to have an option to say you have a [small, quiet, well behaved, doesn't shed] dog with you. It's amazing how many drivers are allergic as soon as you call to let them know you have a dog.
Violeta Semenova
Founder
theBizLadies
Welcome to the Biz Ladies interview series!
If you're new to these series, I interview women entrepreneurs on how they started their business, what was the idea behind it, how they got where they are, the struggles, the reality and more.​
By sharing their stories, we want to inspire other women to get started.
​If you are interested to share your own story on the Biz Ladies LET ME KNOW!