Founder
Jessica Anne International LTD | Trading as The Key Planner
Meet Jessica Jensen, an entrepreneur, a brand strategist and a keynote speaker from New Zealand.
After hitting plateau which led to personal problems and business failure, Jessica decided to do something about it. She has designed the Key Planner, a personal organizer that has helped her achieve her goals and turn ideas into action. Since then she has built a recognizable brand to help inspire and empower people to design a life that truly matters to them so they can turn their goals into reality. The Key Planner is the best personal organizer for planning, improving your habits and achieving personal and business goals.
It was great to hear Jessica's journey and challenges along the way. Her passion and ambition are infectious and I hope you can feel them in the interview too!
PLEASE TELL US ABOUT YOURSELF AND THE BUSINESS YOU STARTED.
My journey of discovering The Key Planner system comes from my own experience after hitting plateau, caught in a directionless daze of uncertainty, due to a health scare which led to personal problems, then business failure & me feeling like I failed myself!

In a desperate attempt to regain my confidence, I started thinking of pivotal moments in my life, to remind myself of what I had done before?

So here goes, in 2009, I decided to leave the corporate world with a vision to start my fashion empire in Sydney, Australia. – I wasn't sure what at that stage, all I knew is I wanted to get paid to travel the world, go shopping and do image makeovers on people.
So, I quit my corporate job and decided to make a move from Auckland, New Zealand, to Sydney, Australia.

While living in the vibrant city of Sydney, I started an image consultancy, which led to me networking my way into the super-fast-paced environment of the celebrity fashion world. Working with TV network Foxtel, Naomi Campbell on her series The Face Australia, and Australia's Next Top Model to name a few.

In 2014, I decided to sell my business, pack up and move to London, UK.

Why? So, I can build an international brand – I attracted attention quickly and landed speaking, training contracts with Nike, speaking alongside influencers and training teams in the elements of personal branding with large, credible organisations.
When I look back at what I had accomplished, I realised I am a life hacker, I always chase after what I want to achieve, so I started thinking about what it was I did consistently to maintain focus and drive.

Three key things were:
1: Strong vision and burning desire
2: Planning
3: Taking massive action.

I started recording and planning my days, which turned into a stack of journals, bullet journal, diaries, vision books, notebooks and thought no wonder why I am a MESS and had hit a plateau. All my thoughts, desires and strategies are all over the place!

Feeling dissatisfied with other planners on the market, as I felt they lacked helping me to give real meaning as to why I must achieve my goals and not just set them.
That led me to create my own accountability system aka my own daily planner for personal use to fill in the gaps of what I needed to do each day consistently to help me progress towards achieving my business goals and personal development.

Well, the elections were on, where there was a lot of discussion about child poverty in New Zealand. Each time someone mentioned education for kids and reducing child poverty, a warm sensation would be present in my heart. I looked over to my homemade journal, and it HIT me. I have the knowledge, skills and passion for contributing to solving this problem, and I know the best tool to do that!

And that was the birth of The Key Planner; I set out on a mission to create a product that allows people to become purposeful, intentional, to boldly dream and chase after what they want to achieve in life.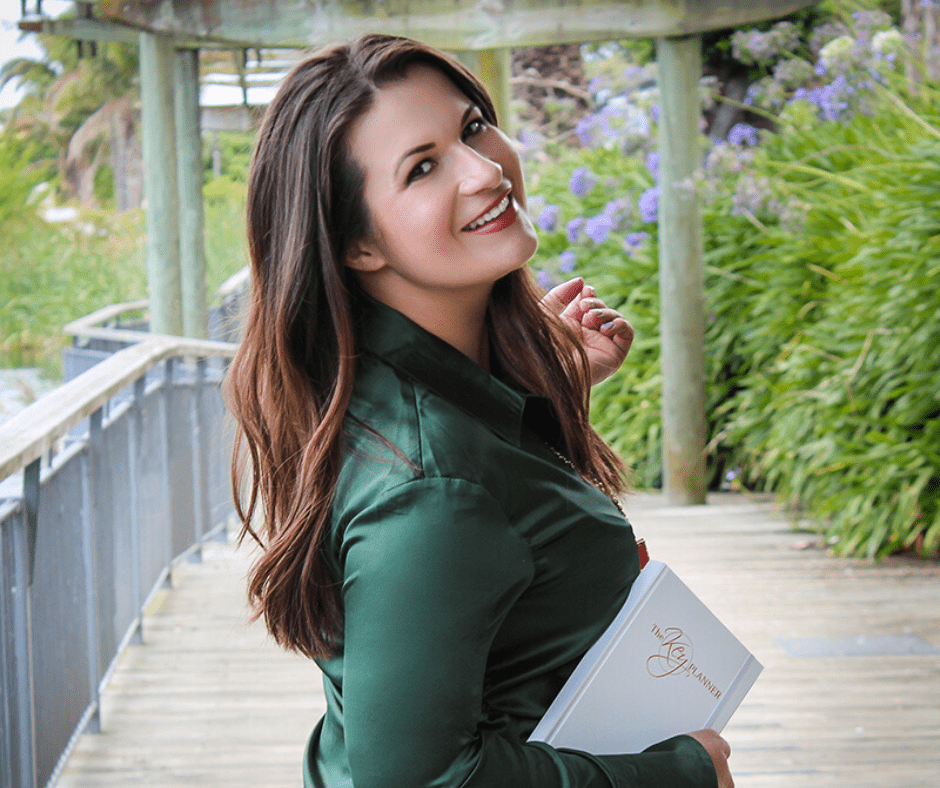 WHAT DOES YOUR TYPICAL DAY LOOK LIKE AND HOW DO YOU STAY PRODUCTIVE?
My typical day starts with my power hour (morning routine to set myself up for the day this includes prayer, planning my day head, starting the day with a healthy breakfast).
Before starting my "get started" work routine at 10 am to 3 pm "shutdown work routine" Monday to Friday).

In the evenings, I tend to keep this for leisure and family; you'd either find me at a pole fitness class or gym session with my partner after dinner (I love working out in the evening's, I find I have the best sleep).
Weekends are for family and house duties – I enjoy growing my fruit, and vegetables as well as spend time with my partner and family.

I feel I am more productive because I have a balanced lifestyle.  As well as a minority of my day is driven by a set of routines (habits).  I don't like to think (unless when needed), as thinking causes overwhelm and I much prefer time blocking and setting up systems (routine and habits) according to my goals and vision.  Planning takes a lot of stress out so I can focus on each day at a time knowing I'll reach all my goals with consistent daily action. 
PLEASE DESCRIBE THE PROCESS OF LAUNCHING YOUR BUSINESS.
I first created The Key Planner to solve my problem, where I'd hit a plateau in life after experiencing personal issues, health issues and business failure while living in London.

Flying back to New Zealand with a suitcase to my name, I was in the process of re-branding myself as a branding & marketing coach – even signed up a few clients.

But as I was going through that process, I realized I still wasn't confident enough to show a public face so started thinking of other ways I could serve my audience hiding behind a computer, and that's when I thought of e-commerce.

I didn't have any funds (but I did have a freeholding property asset) – no cash or income, so it was super tricky.  I had to think outside the box, so I created a digital pdf version of The Key Planner with a focus to build my email list & sell the pdf version to validate my idea, yes SUCCESS.

Then I created the samples, took the photographs, built the brand and website myself to get pre-sales, reached my goal and had enough proof to go to the bank with my pitch in hopes to secure a bank loan to fund the initial startup cost.
This was a hard step for someone who just arrived in NZ, with no income and at rock bottom. My saving grace was gathering enough interest and pre-sales to show the bank I had people waiting for this product. 
WHAT HAS BEEN YOUR BIGGEST ACHIEVEMENT AND YOUR BIGGEST CHALLENGE SINCE YOU STARTED YOUR BUSINESS?
My biggest achievement for The Key Planner business was getting my first 1000 customers, and generating a culture of customers who love The Key Planner – hearing their feedback and reviews bring joy to my heart every day.

My BIGGEST CHALLENGE (I've had many so I'll stick to this business) was not finding a supplier that was able to deliver on the brand promise. The first products didn't arrive as I had approved in the sampling stage, and they weren't bothered to fix this either. I call it my $30k mistake for not doing the proper due diligence and that failure led me to a new supplier, and putting adequate systems and legislation in place to protect my brand. The new supplier has been so much easier to deal with  and if they're good, I'll find out in June 2020 when the 2nd round of products arrives.  
WHAT STRATEGY DID YOU USE TO GROW YOUR BUSINESS? AND HOW?
I'm a brand and marketing strategist by life experience – I like to build relationships. The TKP strategy is to use influencer marketing as an attraction method, followed by a backend system to convert people into customers, then nurture and develop my relationship with customers via educational content to help them further. Then the third stage is working with customers in a referral program that's a win-win situation for both of us. This is by far the quickest method to build trust with an audience who doesn't know who you are. 
WHAT IS YOUR VISION FOR THE FUTURE OF BUSINESS?
Currently I am improving & bringing new products to market. I did have plans to focus more on wholesale this year to get into major stationery stores in Australia and New Zealand that's been placed on hold due to COVID-19 crisis.
So currently I'm pivoting my next move to future proof my business & most likely you'll see this on Kickstarter within 2-3 week (can't reveal much now).

New direction of staying true to my brand purpose and my personal desire of keeping a lean business model. I enjoy working from home and want to focus on expanding my family as well as building a global online empire. The new focus is on online presence and global expansion using fulfilment centres in Australia, then the UK and later the US.
RECOMMENDATIONS & FINAL THOUGHTS
ARE THERE ANY RESOURCES OR TOOLS YOU WOULD LIKE TO SHARE WITH OTHERS THAT HAVE HELPED YOU RUN YOUR BUSINESS?
Yes, get very clear on what you want to achieve. And find a resource either a book, coach or online course (my preferred method) – invest in yourself, do the work each day, don't give up, and you'll reap the results of the harvest.

I don't have a particular book or course etc. to recommend as I have many, but do get clear on what resources, knowledge or skills you need to overcome your challenges and if you're unable to fill that gap find someone who can. 
WHAT OR WHO HAS BEEN YOUR GREATEST INFLUENCE IN BUSINESS AND WHY?
I hope this doesn't sound weird, but the answer is ME – all the experiences and choices I had made throughout the last ten years have led me to where I am today. I am grateful to myself that despite ALL obstacles, I was determined to never give up on my dreams. Don't be afraid to be your cheerleader. 
WHAT ADVICE WOULD YOU GIVE TO OTHER WOMEN WHO WANT TO START THEIR OWN BUSINESS?
Get clear on what you want, then validate your ideas first, be open to feedback, test, reflect and refine. And learn to sell with heart, if you can sell you can start a business.
WHAT BUSINESS IDEA DO YOU HAVE THAT YOU ARE WILLING TO SHARE WITH OTHERS?
An online forum or membership site for female business leaders: One place to share support, business tips and strategies.  A place to learn everything business related and form relationships, so we can motivate each other, feel connected, and learn top strategies. Rather than feeling so alone. 
IS THERE ANYTHING ELSE YOU WOULD LIKE TO SHARE WITH OUR READERS?
Thank you so much for the opportunity. I appreciate this. 
Violeta Semenova
Founder
theBizLadies
Welcome to the Biz Ladies interview series!
If you're new to these series, I interview women entrepreneurs on how they started their business, what was the idea behind it, how they got where they are, the struggles, the reality and more.​
By sharing their stories, we want to inspire other women to get started.
​If you are interested to share your own story on the Biz Ladies LET ME KNOW!