CEO
Beverly Hills Publishing
Beverly Hills, California
Andrea Albright is a serial entrepreneur, prolific author and publishing mogul sharing her strategy and vision advice for launching your business. Her latest book Visionary Boss is offering pure inspiration and a guiding light to entrepreneurs.
Andrea is the CEO of Beverly Hills Publishing offering services from book publishing to traditional marketing, building the online sales funnel and PR.
Earlier in her twenties, Andrea has built a successful business in the health and fitness industry and became a thought leader. She created over a dozen products and books and achieved over 10 million views on YouTube, over 100,000 fans on Facebook, and a cover story with the #1 fitness magazine in the world, "Women's Health and Fitness Magazine."
If you need a story to inspire you then read what she has to say below.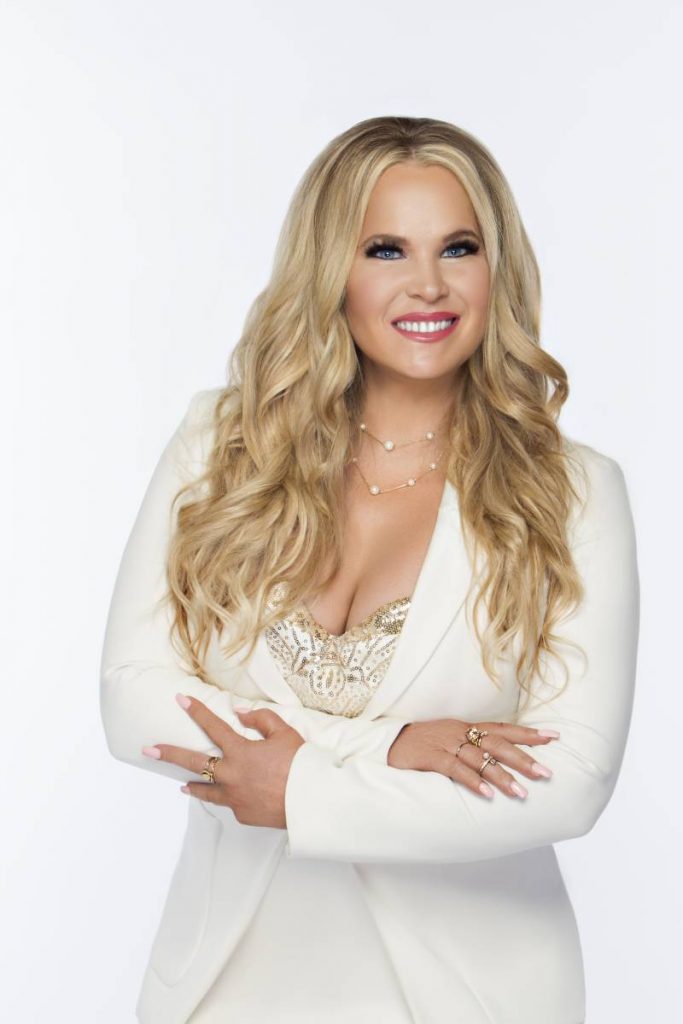 PLEASE TELL US ABOUT YOURSELF AND THE BUSINESS YOU STARTED.
My first career as an entrepreneur started with my passion for health and fitness. I wrote 25 health and fitness books and was featured on the Women's Health and Fitness Magazine cover. I also grew my health business fanbase to over 100,000 people. My books reached tens of millions worldwide in over 40 countries. Now, I use my passion for guiding other visionaries by helping authors publish books with meaning. 
Beverly Hills Publishing uses an integrated marketing strategy that sets us apart from competitors in the publishing industry. We prioritize marketing as the first step in the publishing process. Beverly Hills Publishing creates a strategic plan that will optimize the success of your book and audience reach. We help CEOs, Entrepreneurs and Thought Leaders to tell their stories through words and powerful messages. The turnaround is 90 days. Only 90 days!
My new book, Visionary Boss, takes you through, step by step, how to merge body, mind and spirit to tune into your personal vision – one that transcends stress and chaos. Learn how to elevate your brand, connect with people who value your expertise, and rewire your brain to eliminate fear, doubt and self-sabotage. Create the value that your business feeds on by incorporating self-care and self-belief, thereby attracting people who can take your vision from dream to reality.
WHAT DOES YOUR TYPICAL DAY LOOK LIKE AND HOW DO YOU STAY PRODUCTIVE?
On a typical day, I set my alarm for 4:45 a.m. and I snooze until 5:15 a.m. or 5:30 a.m. I get my coffee and feed my kitty cat. Before my coffee, I drink a large glass of water. After 8 hours of no hydration during sleep, it is so important to hydrate first thing. Then I drink just enough coffee to wake up but not too much so that I'm not jittery. After this, I meditate for around 25 minutes. Next, I drink a green shake and make it with my Vitamix. It contains raw cilantro, parsley, kale, avocado, protein powder, digestive enzymes, fiber, coconut oil and glutamine (antioxidant). I consume more green vegetables before noon than the average American eats in a year. Three days a week I go to yoga and two times a week I do cardio or weight lifting. I swim for one day over the weekend and then take one day off to veg on the couch.
After I complete my morning meditation and exercise ritual, I start to get ready for the day. I do interviews with clients and talk with my team in the morning, but I multitask and do my hair and makeup at the same time. I always get camera-ready by 10 a.m. By this time, I have a client Zoom meeting or an interview. I do everything on my productivity list to drive my business forward before I check emails. Right now, I am publishing over 20 books, so it is important to manage and stay on top of deadlines. I currently do a lot of interviews now for my own book, Visionary Boss. My day is full of current clients and prospective clients and sales presentations on Zoom. I schedule my calendar to have one hour on and one hour off in the break. First of all, this strategy makes sure I have a buffer if anything ever runs over the designated time slot. These slots give me time in between to take breaks where I can pet my cat or have meals delivered. I have five small meals a day instead of three large meals. This keeps me free from stress, elevates my energy, and limits the fat stored in my body. I typically eat a piece of fruit and a handful of nuts, or a salad for my afternoon meal. I don't eat carbs during the day because they make me tired. I also drink 3 cups of coffee throughout the day, but I am working to cut this habit out. 
The end of the last call I take is always around 5:00 p.m. I then check my email at the end of the day by getting back to everyone that needs me. I have conditioned myself to accomplish everything that I need to get done and move my business forward before I go into reactivity mode. I have been producing in the studio to create new content for the brand. At 7:00 p.m. I am typically done with emails and I take a bubble bath with Epsom salt, spa music and I read books in the bath. It's like my spa sanctuary. My boyfriend cooks dinner and we watch TV while we eat dinner, which is another bad habit, but this is what we do right now. I go to bed at 8:30 or 9:00 p.m. I read in bed and fall asleep at about 9:30 or 10:00 p.m.
I train my brain and mind first thing in the morning with meditation. A mind is a tool for focus, and it is necessary to clear and calm your mind in the morning. I use a timer. I schedule an hour on and an hour off. Whenever I work on a project, I will set my timer for 50 minutes of focus with no interruptions. I work in 50-minute work blocks and then take a 10-minute break to optimize my work and focus. Additionally, my office is my sanctuary. I have everything very organized. My team is almost all virtual, so I don't have to interact with people throughout the day and make small talk like I would in an in-office setting. It is an optimized work environment for peak productivity and no distractions.
PLEASE DESCRIBE THE PROCESS OF LAUNCHING YOUR BUSINESS.
I was emotionally broken after I learned that my husband was leaving me for my bridesmaid. I went back to Texas to be with my mom because I needed to be somewhere where I could trust the people around me. I stayed in her spare bedroom and slept on a bunk bed for months. I woke up depressed and heartbroken and had many problems with my self-image. I felt unlovable given the trauma I had endured when I found out that two of the people closest to me had betrayed me. Over the time spent in my mom's bunk bed, I developed my plan and vision for the future. It was the hardest time of my life, but I was able to deeply reflect on myself and what I truly wanted going forward.
At the start, I had been writing and publishing my own books since 2006. I didn't know if I could do this for other people, much less create a book that would really capture the audience's attention. At the beginning, it was all a test and see if this could happen in 90 days. I took on clients that I knew from my health and fitness days. First, I thought about the business from a group coaching perspective. I would teach people how to market and publish their books. What I realized is that people run into self-limiting beliefs and blocks, so they weren't meeting the deadlines on their own. People think they are ready to become a thought leader, but most people are not ready for this. I realized that I cannot coach people to do this, I just need to do this for them. That way I take this all off of their plate and publish them. That is when I switched my business model to a seven-star done for your model. I have raised my rates because the premier package attracts serious people ready to do this. I had to clarify who is ready for the authority book that comes from becoming a thought leader. Now that I am a publisher, I get opportunities from media organizations, editors, and other publishers. People looking to change in the publishing industry who are not satisfied with the old model of publishing have a new option.
WHAT HAS BEEN YOUR BIGGEST ACHIEVEMENT AND YOUR BIGGEST CHALLENGE SINCE YOU STARTED YOUR BUSINESS?
My biggest achievement to date is being on the cover of the 21st-anniversary edition of Women's Health and Fitness Magazine. This was a huge honor. I was 37 on the cover. Typically, any age over 25 is considered over the hill for fitness modeling. More importantly, the interview they gave me was so special because they explained that I was more than a fitness model or an influencer, I was a thought leader. Because I write books that change women's perspectives and I evolved the health industry through my books, they declared that I was a global thought leader in women's health. This really solidified my authority brand. So many people told me I would not be able to compete in the competitive market. I listened to my heart that was saying I wanted to help people and help the market of health and fitness. When I became a global thought leader in such a competitive industry, I proved I could do anything. This gave me confidence in what I do now with publishing.
The biggest challenge is that there is no one to complain to or about as an entrepreneur. This really causes you to look in the mirror and discover these deep parts of yourself. It is so easy to hide behind excuses, but as an entrepreneur, 100% of the responsibility is on you. This can be anything from branding to marketing to the team structure, etc. You can't project fear or disappointment on to anyone else. Once you have the strength to realize that everything is inside of you, then you get to experience the win when it all works out. Most entrepreneurs quit, so all they remember is the failure because they don't stick with it. Now I am through this insecurity or startup phase, I now know I can do anything I put my mind to. The process of discovering this about yourself is challenging. Most people want to hide and don't want to do the work or take responsibility.
WHAT STRATEGY DID YOU USE TO GROW YOUR BUSINESS? AND HOW?
I am all about relationships. I build my businesses by leveraging the right relationships. This comes through networking. Networking is surrounding yourself with the right people to create your vision. Now I am able to connect to these really successful entrepreneurs. Being able to access the right network is key. There are no limitations when you surround yourself with people that think bigger. By being able to access these networks, I start to think like them. I have been building my seven-figure business from the day I started. You never want to be the smartest person in the room, ever. You want to humble yourself and learn and grow from others. Finding mentors has been the fastest path to growth and it has accelerated my thinking. I have access to all of their networks. Some become my clients and refer me to other people. The integrity of your reputation is everything. In order to get into these kinds of networks, you must have unshakeable integrity. You must have radical responsibility.
People constantly talk about who is succeeding and who is not. If you do deliver what you promise, then people will share you and help you to build more relationships. Networking and building relationships at the premium level is my secret sauce to building businesses that succeed. My advice is to be selective with who you open your world to because you become like the people you surround yourself with.
WHAT IS YOUR VISION FOR THE FUTURE OF BUSINESS?
At Beverly Hills Publishing, we are disrupting the publishing industry because authors are not being served by publishers. The old publishing model is broken and outdated, so we created a new model that makes sense with the age of digital technology. By combining digital marketing with publishing and PR, we are the first seven-star marketing firm and publishing firm combined. It is so necessary to reach your audience and get publicity.
At Beverly Hills Publishing we prioritize marketing. We focus on marketing first in the marketing strategy so that we make sure to connect to the target audience. After we publish the book in 90 days then the audience is already excited to buy. This integrated approach to marketing and publishing is how we are disrupting the industry. The gifts coming through the authors are connecting to the audience who they are meant to help. The publishing industry is so competitive, and I truly believe it brings out the best in me. It also allows me to find the greatest value in the authors we are serving.
My goal for the future of Beverly Hills Publishing is to be the #1 global media empire on the planet. We are publishing books, digital marketing, pr publicity, and branding into the production of TV, movie, radio, etc. There is so much fear, noise and scarcity in the media channels today. I want to raise the vibration by creating the #1 global media empire for positive and abundance related mindset. We are starting with books, but we are going to be a global enterprise through all channels of media.
RECOMMENDATIONS & FINAL THOUGHTS
ARE THERE ANY RESOURCES OR TOOLS YOU WOULD LIKE TO SHARE WITH OTHERS THAT HAVE HELPED YOU RUN YOUR BUSINESS?
The 7 Habits of Highly Effective People by Stephen Covey is a wonderful book. It taps you into your habits and what you can control. If you don't have your inner world dialed in, then you will never create anything that lasts. You need to be in touch with your habits and really dial in. You attract success through your ability to improve your habits and take radical responsibility in all areas of your life. You can't be a victim if you want to be an entrepreneur, no matter how many obstacles. You must be proactive in what you can create day by day. Then, people invest in you, clients want to work with you, you get opportunities for business partnerships and you get invited into higher and higher levels of networking.
WHAT OR WHO HAS BEEN YOUR GREATEST INFLUENCE IN BUSINESS AND WHY?
At the beginning of my career in entrepreneurship, I was struggling with what it meant to be an entrepreneur. My first mentor, Eben Pagan is an entrepreneur who helps to scale companies. I met Eben when I was 28. When he came into my life I was really transported to a new dimension. It was great to feel understood for being different when I struggled to find others that understood. Eben taught me to be self-reliant and to use my gifts as a sense of strength. He taught me that I need to be a lifelong learner. I have learned so much and still continue to grow and inquire. His support and strategies to live in business have definitely contributed to my success. It is so important to continue to find new mentors to grow. 
Later in my life, a new mentor, Satyen Raja, helped surround myself with other entrepreneurs. I met Satyen when I was at a very difficult time in my life. I was dealing with a divorce and lost financial support and success. I had to start over.  Satyen explained that he worked with high-level CEOs raising the consciousness of the planet. He explained that he saw how much potential I had and knew I would grow in my success. He has been my mentor for 2 years and knows his belief in me contributed to my current success.
WHAT ADVICE WOULD YOU GIVE TO OTHER WOMEN WHO WANT TO START THEIR OWN BUSINESS?
Don't listen to other people's opinions. Women grow up being told don't speak unless you're spoken to. Being a visionary is all about following your intuition and not letting anyone else get to you by saying that you're crazy. Women have to be more committed to your success than being popular or being liked.
Being a leader, you cannot be liked by everyone. The more successful you become the more people are going to want to bring you down. If they can tear you down, that gives them a power trip. This is a struggle that many women face, and many women cannot overcome this. It is about committing to the value you are meant to create on this planet and who you are meant to serve. You have to tune everyone else out, expect the people you are meant to serve. That devotion and commitment have to overcome loneliness, but then when you reach success people want your advice. I wish women supported more women. Women give up on their vision because they are trying to please everyone else around them. This is ironic because they end up being angry and resentful to the people they give it up for. I want to tell women that honoring your vision and dream will actually make you have better relationships in life. I want women to find their inner stance and trust that.
Susan B. Anthony fought for the sisterhood and. Around 100 years ago women got the right to vote. Before this, women were property and were looked down on if they were not married. She used her life to fight for women's rights. It has been 100 years. Where are the women in business and why aren't they using their voice? We fought for this and there has still been so little progress made. So, I am using my life and my voice to say yes, we have the right to vote but as women, we also have the right to our dream and our vision. My purpose is to make sure that other women truly make the most of this life they've been given. I see so many who are bitter, jealous, angry and envious. Because we don't support each other there is so much competition with women. Women competing with other women aren't going for their own dreams. Every woman who is fulfilled does not compete but lifts other women up. It is time for us to truly step into our rights. 
WHAT BUSINESS IDEA DO YOU HAVE THAT YOU ARE WILLING TO SHARE WITH OTHERS? 
I want to teach young girls how to be entrepreneurs. Why can't we teach leadership and entrepreneurship from a young age? Why don't we have games and toys associated with being a boss? Instead of playing house, I want my children to play entrepreneur. I want them to be the boss. The toys in our society don't reflect that. 
IS THERE ANYTHING ELSE YOU WOULD LIKE TO SHARE WITH OUR READERS?
I want to encourage sisterhood. It is time to eliminate competition among women. This is close to me because my bridesmaid had an affair with my husband. How can we be in the 20th century and two women are fighting over a man? I used to tell her that she should start her own company and create her own destiny, but she wanted men to take care of her. I trusted her, but when this happened it was so traumatic. The trauma of divorce was hard enough as it was, but it was also devastating to learn about the betrayal of my dear friend and bridesmaid. This actually hurt more because she was supposed to be there to support me. I was faced with the choice to never trust women again or to go in the direction of devoting my life to making sure no two women ever compete again. Women are so abundant with their own vision that no women have to compete ever again. I want women to get to a place where competition is eliminated on this planet.
Violeta Semenova
Founder
theBizLadies
Welcome to the Biz Ladies interview series!
If you're new to these series, I interview women entrepreneurs on how they started their business, what was the idea behind it, how they got where they are, the struggles, the reality and more.​
By sharing their stories, we want to inspire other women to get started.
​If you are interested to share your own story on the Biz Ladies LET ME KNOW!