Our interviewee today is Chahat Aggarwal, the founder of Impact Study from India. Impact Study helps businesses build and execute brand and growth strategies to become money-making assets. 
Chahat has had an exciting journey, from pursuing education in art and design to becoming a film director and now using her expertise to help other businesses grow.
PLEASE TELL US ABOUT YOURSELF AND THE BUSINESS YOU STARTED.
I have been a short film director, writer, trainer, designer, management consultant, branding expert, marketer and strategist. I have climbed in the Himalayas, dived in the great barrier reef, and lived on 3 continents. As a curious person, I wanted to explore the world, human psychology and art. 
I grew up in India with my younger brother, who is the best advisor in my life. My parents have a great influence in creating my sense of CAN DO attitude, as they say, perseverance is the secret to success. 
I had quite a sheltered life during high school, but my adventure began just as I graduated from there. I moved to Sydney, Australia from India to live with my grandfather, where I pursued my education in Art and Design. It was during my stay in Sydney I understood the concept of being Independent. I learned not just about design, but also the importance of hard work. Living in a new country away from my friends and learning to do everything by myself made me a quick learner and perceptive of the people around me. 
I further studied Filmmaking and animation from Mumbai India. During that time I won a couple of awards for the movies I directed and had written. Being cynical about creating an impact, during my time in Sydney and Mumbai, I won numerous awards and was elected as the College Representative/Leader every year. After exploring the movie world, I wanted to understand how to run an actual business. I worked as a management consultant for a year, helping businesses run their operations effectively. This gave me knowledge of business operations, that when combined with design and marketing I could create successful brand strategies. I joined a Brand agency as a Sr. Brand consultant, where I managed over 20 client brands and built strategy and communication for each. 
I did a Strategic negotiation certification from Yale University and joined OYO, a hospitality startup in India. I was an integral part of growing the OYO brand from $250mil to $10bil. I led the brand global expansion and product creation of OYO hotels and homes for 2 years before leading the brand in Amsterdam and London as Head of Global Brand for OYO Vacation Home. During my time of global expansion for OYO, I realized the need of strategic thinking for brand growth that most of the startups were lacking. 
I noticed that startups and SMEs are unable to compete with big organizations, thus creating a monopoly in business and limited options for the consumer. I am a big believer in fair-play and equal opportunities, this is why I started Impact Study, to provide strategic consulting within a budget for Start-ups and SMEs. We work with companies to help achieve their business, marketing, and growth objectives; that provides people access to multiple products and benefits, as a result of creating a free market. 
Brand isn't just about design, if implemented with the right strategy, it can make money. Bringing together the business and the creative world, creating measurable results is where Impact study excels. The company's sole mission is to create a positive impact in this world by helping brands meet their full potential. Impact Study offers simple and sustainable solutions:
New Product Creation,

Go-to-market Strategy,

Rebranding/Repositioning,

Growth Strategy,

Brand Development. 
Brand is a perception and we let you unlock its full potential. 
WHAT DOES YOUR TYPICAL DAY LOOK LIKE AND HOW DO YOU STAY PRODUCTIVE?
On weekdays I wake up around 7 am, go for a short run and do tai chi. This helps me feel energetic and calm for the rest of the day. After my morning coffee and orange, I get online to check my emails, messages on every platform and create a TODO list for the day. It helps me to stay productive when I assign priority to each task so that I am aware of where my focus has to be.
I collaboratively plan my day, and make sure that the most urgent work gets done first, At 9 am I have a kick-off call with the team to discuss the tasks, I am responsible for overseeing my teams as they progress on various campaigns and strategies. I check-in and help them with any issues they may be having. I keep in touch with clients, update them on our progress and make sure they are satisfied with the work.
Around 1 pm I have an update call with my Partners at Rebell Studio, Poland. I am their growth advisor and focus on weekly action points to achieve our goals. At 8 pm I get started on my reading and writing. There is very rarely a moment that I am not doing something. 
But, to stay productive, I make sure to take a 5 mins break every 2 hours. That 5 mins distraction refreshes my mind and gets me focused the moment I get back to work. I also make sure that I utilize the 1st half of the day planning the tasks, priorities and assign it to the right people so that the 2nd half of the day I can focus on execution without interruptions.
PLEASE DESCRIBE THE PROCESS OF LAUNCHING YOUR BUSINESS.
For over 5 years I had successfully launched 18+ products and created numerous growth strategies for different brands and each of them had the predicted results, and some even exceeded those numbers. I used to educate people about the importance of brand strategy and business strategy to go hand in hand, no-one took me seriously until I developed and executed those strategies for the brands with a 100% success rate. This gave me a proof-point of how my brand strategy principles work for every industry, so without a beat I started Impact study. 
After starting the company, I realized that I have an opportunity to do things differently. I focused on providing my services to only Start-ups and SMEs at low cost. While startups spend a lot of money on their tech and product creation, their go-to-market strategy or growth strategy is not quite sorted. It is understandable as it cost big bucks to hire a strategic consultant to define your brand, marketing, and business goals to achieve your targets. But, if no-one knows about their innovative product and services, how will people access it? I am a big believer in fair-play and opportunities, this is why I made sure that Impact Study focused on impact-driven projects with start-ups to provide strategic consulting within a budget. 
I came up with the name: Impact Study, after 4 hours of a brainstorming session. Out of over 20 names I picked this because it just simply tells what we stand for. We create Impact, while constantly studying the market, people, behavior, psychology and business. The principle that we do things based on facts and research rather than random impulses, summarises IMPACT STUDY as a perfect name for the company. 
Together with my partners, I started building my business model and got all the assets together using multiple online tools and platforms. As I had put in all my savings to get this started, I made sure to utilize each and every available online tool to build the website, payment channels, marketing and project management for efficient operations for my team. Fortunately, we got some good feedback from our clients and because of which we are careful with the kind of projects we do pick up, to make sure that we are consistent with our performance. 
I have invested a lot in learning tools because it's best to keep improving our skills and our motto is to be better today. With constant learning and developing and exploring new methods, we make sure to provide our best to each project we work on.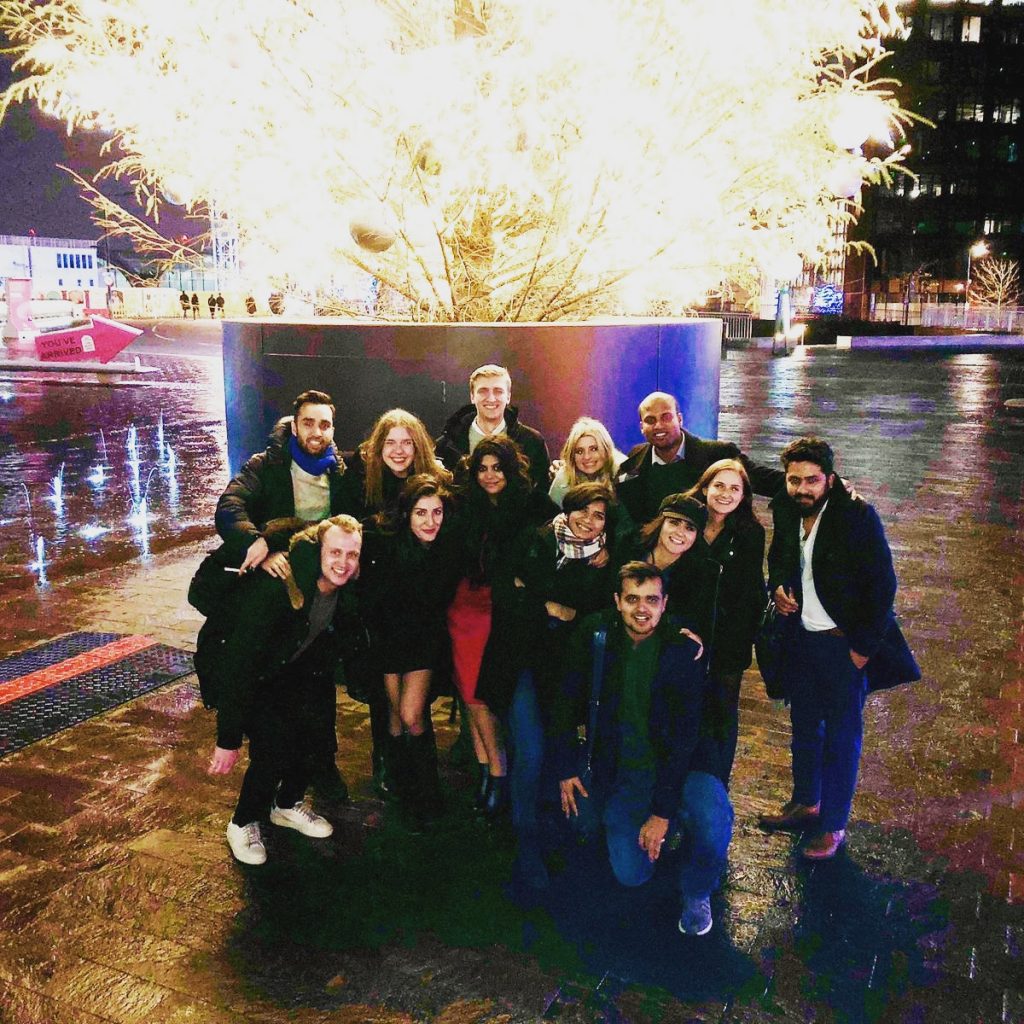 WHAT HAS BEEN YOUR BIGGEST ACHIEVEMENT AND YOUR BIGGEST CHALLENGE SINCE YOU STARTED YOUR BUSINESS?
The biggest achievement has been to foresee the economic change for 2020 and build a crisis solution for startups that works. I wrote a detailed report and wanted to make sure that we all adapt with the new world.  With vigorous research on financial data, market volatility, trade sanctions, consumer behavior etc, we could identify how the economy will react, and what companies need to do to survive and thrive. Our predictions turned out to be accurate and helped many of our clients to not just sustain but to grow in a conscious way. 
My biggest challenge has been walking away from a promising, steady long-term opportunity for something unpredictable. This created self-doubt in me at the initial stage, I started to question almost everything I did, but it was then I realized that I cannot be unsure, no matter how scary it is, I am working towards providing something better to the community. I have a good support system: family and friends who keep me true to my goals and support my plight, as well as an advisory board of other entrepreneurs who have objectively opined as to the direction of my business. Things that used to scare me now encourages me to move forward and be better.
WHAT STRATEGY DID YOU USE TO GROW YOUR BUSINESS? AND HOW?
Strategy: As we were very clear on our services and the brand positioning it was very easy for us to create any communication material we needed. Spending time and energy in building the right strategy helped me gain clients with limited effort. Strategy listed down the action point phase-wise and gave clarity on where the focus needs to be, to get maximum returns and desired results, in the limited time.
Marketing: Instead of social media marketing, I used email marketing and Linked-in marketing to get clients with specific criteria that were a perfect fit. We did proper follow-ups on the feedback with the client that as a result acted as an ambassador for Impact study, referring us to other companies. CRM has worked out quite well for us, increasing the NPS score for all our clients. We are now exploring account-based marketing as now we have enough money to invest in it.
Awareness: Currently I am working towards my next goal of building brand awareness, We organized workshops and speaking engagements, which are going well. The next step is going to be more active on social media and work towards digital and content marketing. This builds brand recognition and creates proper recollection of a brand. 
WHAT IS YOUR VISION FOR THE FUTURE OF BUSINESS?
My vision is to "Bring the best and innovative brand solutions to every startup in the world." Our focus is on growing our business, I am looking for collaboration with Design or Management companies. Because Impact study is right in the middle of both, providing each sector something unique to meet the best business results. I am looking to expand the business in the UK and in the USA where there is a major start-up boom and strategic services are pricey. Bringing our services to these markets with such nominal costing will provide everyone access to the brand's strategic expertise that works! 
I have built a think-tank of CEOs, CFOs, Marketers, CTOs from various industries all around the globe. Their advice helps us provide the best results for our clients. In future I want to create workshops and training sessions, where our clients can get the Industry leader's insight on how to solve critical problems in business to grow more effectively and sustainably. 
To cope up with COVID-19 crisis we came up with the "Sustainable program" for startups, where we provide expert strategy and execution for crisis management and new business outlook. We are helping startups adapt to the new world situation and providing the tools and building systems to prepare for post-COVID consumers. We are currently hiring for executional roles to help with the operational side of the business.
RECOMMENDATIONS & FINAL THOUGHTS
ARE THERE ANY RESOURCES OR TOOLS YOU WOULD LIKE TO SHARE WITH OTHERS THAT HAVE HELPED YOU RUN YOUR BUSINESS?
As I mentioned earlier how I realized online tools for most of the things, here is the list of my favorites that did wonders for my business within a budget. 
Canva : If you don't have budget for adobe subscription, an instant go-to option is Canva for quick and clean designs. Canva empowers users to create social media graphics, presentations, posters and other visual content. Featuring a simple drag-and-drop user interface and a vast library of templates and design ingredients such as fonts, illustrations, stock photography, video and audio content. 
Wix: For a quick website with minimum effort go for Wix. It is your one-stop fix for everything you need to build your website. It provides great help for a searchable knowledge base, whatever your skill level, Wix's powerful template editor gives you full creative control,  without needing to know a word of code.
MailChimp: It is a marketing automation platform and provides an email marketing service. It's easy to learn and does wonders with your CRM and outreach. It is simple for me to create an email newsletter and be able to save it as a template to customize each month before I send it out.
Good To Great :  Jim Collins answered the question: What common characteristics are shared by companies that made the change from good to great? The insights help us follow in the footsteps for a greater future of the business.
WHAT OR WHO HAS BEEN YOUR GREATEST INFLUENCE IN BUSINESS AND WHY?
There have been multiple influences in the way I conduct my business, Oprah Winfrey, Sara Blakely, Indra Nooyi and Gwyneth Paltrow. Each of their journeys has taught me various lessons.
Although it's been my parents' individual business journey that I have learned the most from, the life lessons I have learned from them is the reason why I am a driven person with a will to make a positive impact. My mother founded and ran a successful fashion Boutique Label for over 10 years. I learned from my mother the art of a balanced life, she taught me that I don't need to obsess over one thing instead, succeed in both (professional and personal life) with kindness, without the fear of making any mistakes. Her appetite for innovation and problem-solving skills was the reason why her business made the competition irrelevant. She taught me to stand out with a great purpose, create your own space, provide quality instead of quantity, don't be afraid to innovate and explore new things – I follow the advice every day. 
My father encouraged me to dream bigger. He says that no-one is too weak to create an impact in the world. He taught me never to see gender, race, color, age because these things should not define our actions or limit us from achieving our goals. He has been running his manufacturing and trading business for over 37 years successfully. From him I learned that in business good and bad times are unpredictable, what you can rely on is your perseverance of handling both with the right sensibility. NEVER GIVE UP – those who run away from problems can never get past them. One should be brave enough to stand tall and face it with grace and find a solution so that you come out of it stronger and better. His lessons on transparency, teamwork, fair trade, and customer-first approach has shaped my company's values.
WHAT ADVICE WOULD YOU GIVE TO OTHER WOMEN WHO WANT TO START THEIR OWN BUSINESS?
Ask "Why?" 
Do not try to follow the norms but instead ask "Why?", always have a reason for starting your business, hiring people, expanding, etc. Unless you are clear on  "Why?" you are doing that you are doing, it will not be successful. It teaches you about yourself, your motivations and your purpose in life. 
Starting a company isn't easy, be smart, opinionated and ambitious. But always have a reason to do something. Never forget to ask "why?".  It's not limited to you, if you disagree with someone's idea, instead of saying "I don't like it" ask "Why?" By asking "Why?" you get people to talk about their reasons. That way you can make an  informed decision.
Studies demonstrate that people with the highest quality knowledge are the ones who routinely explain things to themselves as they learn. That is, these people consistently ask themselves "Why?" and then answer that question as they learn. When you ask  "Why?", you are asking because it matters and the answer will shape what you do next. 
WHAT BUSINESS IDEA DO YOU HAVE THAT YOU ARE WILLING TO SHARE WITH OTHERS? 
I had this idea so many years ago, which I am still very interested in. An integrated design and project management system. Think of it as, Wix + Canva + Jira, everything you need for your design needs to be in place from planning, development, execution to launch. This will help keep a track of all resources and time management will be just flawless. It will increase the productivity and efficiency of the team on design projects. It will be the most useful tool in my workplace!
IS THERE ANYTHING ELSE YOU WOULD LIKE TO SHARE WITH OUR READERS?
You can never agree with everyone on everything. You see people disagreeing and you are so afraid of getting into an argument, that contempt has replaced conversation. You can't grow if you are not open to persuasion and practice intellectual humility. It's a secret to personal growth and learning without limitations.
When you feel ashamed or riled up, it's easier to attack the person making the argument rather than the substance of the idea itself. You tend to bring in extreme examples where the relevance no longer matters because now the objective has changed from changing someone's mind to proving your point. You will fail to share innovative ideas or insightful world views unless you find a common ground. People say that they are open-minded and value feedback, but when the time comes they let their frivolous emotions take over.
The importance of knowing that you might be wrong, and not caving every time your thoughts are challenged is how you become intellectually humble.  Intellectual Humility isn't limited to a specific area of your life, these skills make you an effective leader, productive team player, better life partner and much more. When you're willing to consider alternative points of view and ways of doing things, you'll be more open to a variety of different points of view and potential solutions. You become wiser when you are open to listen, persuade and adapt. Keep in mind that it isn't that your view is wrong but other's view may also be right.
Violeta Semenova
Founder
theBizLadies
Welcome to the Biz Ladies interview series!
If you're new to these series, I interview women entrepreneurs on how they started their business, what was the idea behind it, how they got where they are, the struggles, the reality and more.​
By sharing their stories, we want to inspire other women to get started.
​If you are interested to share your own story on the Biz Ladies LET ME KNOW!