London and Manchester (servicing UK)
Our female entrepreneur today is Freya Blount from the UK, a founder of Gather and Graze.
This young and creative entrepreneur has started an artisan business specialized in producing beautiful grazing tables and platters. 
Gather and Graze are the only grazing catering company that serves the whole UK with grazing tables for brand launches, weddings, baby showers and everything in-between. After a successful first year in London, in 2019, Gather and Graze opened their second kitchen in Manchester. 
Read on to find out how Freya has built her creative business whilst working a full-time job.
PLEASE TELL US ABOUT YOURSELF AND THE BUSINESS YOU STARTED.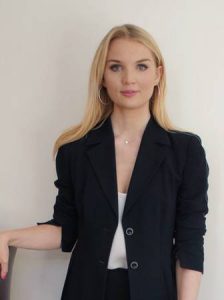 Hi, I'm Freya, founder of Gather And Graze, an artisan food company creating Grazing Tables across the UK. I am a passionate lover of both cooking and food styling so founding Gather And Graze as a business was just an extension of this.
I grew up in Manchester, and following three years in Birmingham completing a degree in Economics I moved to London to enter the world of advertising. To others, building a business in the food and drink sector may seem a random choice from this, but creating Gather And Graze was as much about my passion for building a brand as it was about my passion for food.
Prior to launching the business, I had a range of experience in the industry, from the five years I spent waitressing whilst I studied, to cooking and writing recipes in the BBC Good Food kitchens; collectively these experiences have helped shape the growth and strategy I've used within the business.
WHAT DOES YOUR TYPICAL DAY LOOK LIKE AND HOW DO YOU STAY PRODUCTIVE?
The business hours of the flower and food industries mean an early start. 5 am, armed with a coffee I walk to the flower market and check emails en-route. With time you get to know suppliers well and it's usually a fairly quick dash to the same ones who will have the eucalyptus and today's floristry bunches ready to go.

Depending on the day, I'll either head to The City ready for a day's 'normal' work (albeit with 5kg of flowers under my desk ready for the evenings' orders) or at weekends back to work on Gather and Graze emails from home. People are often surprised that I still work full-time alongside Gather And Graze, but I work in a job and company that I love and have worked hard for, so the long days balancing both are more than worth it.

Once I've sent out price quotes and invoices, we'll start packing the portable fridges and baskets ready for the day's events, there's a lot of prep that goes in before they're packed to ensure minimal set-up time at the venue. Once we're all packed and ready to go we'll arrive at the venue and set up in around 2hrs, getting out of the way before the event start. Next venue, repeat.

Finally, around 7pm we finish up and head home. Once home, with a makeshift cheeseboard of spares and a glass of wine I'll prep photos for Instagram – the key cog in our marketing strategy. 

In terms of staying productive, as much of it is manual labour as is replying to email/admin with Gather And Graze, so staying productive is never a problem!
PLEASE DESCRIBE THE PROCESS OF LAUNCHING YOUR BUSINESS.
Ninety percent of the process of launching Gather and Graze involved sitting with my Mac in a Battersea café creating the branding and learning to build a website.
Considerable thought went into the audience I was talking to at this stage, as whilst a lot of traditional catering companies have more serious and formal branding I was keen to go against the grain and create a more colloquially toned brand that catered to the modern relaxed dining events and the people that are booking them. 
Once I'd committed to that everything came naturally; as a 22-year-old working in advertising, it was an audience tone I was familiar with and spoke to me as a consumer.

After establishing the brand, there are more subtle stages in the business which happened naturally over time such as gaining business wholesale memberships, incorporating and purchasing assets e.g. a portable fridge! 

WHAT HAS BEEN YOUR BIGGEST ACHIEVEMENT AND YOUR BIGGEST CHALLENGE SINCE YOU STARTED YOUR BUSINESS?
The biggest challenge has certainly been learning to wear all the hats of the business in terms of the back end. In creating Grazing Tables it's great having a team who I trust immensely to deliver; but the financial, marketing and admin all sit with me.
The autonomy this gives me is actually one of the things that I love most but keeping up with the rapid growth of the business and the impact this has on taxes etc. is a minefield to be carefully navigated. 
RECOMMENDATIONS & FINAL THOUGHTS
PLEASE RECOMMEND ANY RESOURCES AND TOOLS THAT YOU USE TO RUN YOUR BUSINESS.
I use Wix, Google analytics, Instagram analytics and UNUM.
WHAT ARE YOUR FAVOURITE BUSINESS BOOKS, PODCASTS OR BLOGS?
My favourite podcasts are The High Low by Dolly Alderton and Pandora Sykes (not business-related but will give you a good grounding on what's relevant and talk about right now which is invaluable).
WHAT ADVICE WOULD YOU GIVE TO OTHER WOMEN WHO WANT TO START THEIR OWN BUSINESS?
Look at what you're already interested in and then make a business from there rather than vice-versa.

Once you've found that, I'm a big believer in a 'don't talk about it, just get on with it' mentality.

Waiting until the work is done before anyone knows you're doing it will lead you to work harder in the long run.
Violeta Semenova
Founder
theBizLadies
Welcome to the Biz Ladies interview series!
If you're new to these series, I interview women entrepreneurs on how they started their business, what was the idea behind it, how they got where they are, the struggles, the reality and more.​
By sharing their stories, we want to inspire other women to get started.
​If you are interested to share your own story on the Biz Ladies LET ME KNOW!