Founder & CEO
Nurtured by Nature
Our inspiring female entrepreneur today is Antara Mohan, the founder and CEO of Nurtured by Nature, a luxury skincare brand from Kolkata, India.
Antara is  a future lawyer who has always been passionate about herbs and holistic health. Read on to find more about her entrepreneurial journey that started during the lockdown.
PLEASE TELL US ABOUT YOURSELF AND THE BUSINESS YOU STARTED.
Nurtured by Nature is a skincare brand of personalized, organic herbal concoctions of a beauty blend that restores the radiance of the skin naturally. Since I was a child, kitchen ingredients and herbs grown in my garden always fascinated me. I seem to have a natural knack for creating blends and mix-ins related to skin health. At the University of Bristol, UK, where I studied, I seemed to be more popular as a herbalist offering formulas for skin repair than as a law student. Nonetheless, fighting for a cause was also an area of concern to me.
While at university, I set up 'Standing Tall,' a support group that works to foster body positivity and work towards rebuilding the broken relationship with the body. 'Rise again' is another of my projects that aims to mentor those dealing with depression and low self-confidence. My interest was first sparked when my university was plagued by a suicide epidemic, and mental illness became a major concern.
While the law takes much of my time, I enjoy reading and researching about skin-psychology and my tips have come useful to people and have produced results. I have this reputation for being that girl who would collect rose bouquets from wrapped up house parties, make face masks out of them and distribute them amongst my flatmates. The response so far has been overwhelming, but as I was communicating with clients, I realized I had to address an even greater concern. I was dealing with complaints of acne, pimples, and pigmentation, but their solution rested not only in my skin repair formulas, but on their mental health aspect as well. The works about The Gut-Brain-Skin Axis discovered by dermatologists John H. Stokes and Donald M. Pillsbury at the University of Pennsylvania became a great read. The youth needed to understand the overlap between depression, anxiety and skin conditions such as acne and pigmentation. Just like emotional responses could trigger anger reddening one's face; anxiety and sadness could overwhelm the body processes with fine lines and dullness. 
Thus, I deal with mental health vis-a-vis skin health. Although it takes time and patience to prepare my products I Love doing it as I am living my passion.
WHAT DOES YOUR TYPICAL DAY LOOK LIKE AND HOW DO YOU STAY PRODUCTIVE?
My morning begins with tea made from bay leaves, cinnamon, cardamom and cloves. I use the remains to make a pack for myself. I enjoy watching Study IQ, a show exhibiting biographies and current affairs on Youtube while I drink my tea. I dance mostly to Bollywood tunes every day. Since my family runs movie theaters, Bollywood is a part of my life. I spend my mornings nurturing my plants and my afternoon watching something sensible on Netflix. 
I am a true believer in intermittent fasting, so I have lunch at 12:30 p.m. Lunch is usually a regular lunch, but dinner at 6:00 a.m. is fancy. After lunch, I spend time preparing potions as per request in my private laboratory. After that is done, I personally package them, write about them, photograph them, and advertise them on social media. While I care about the finance part of my business, my main objective is to encourage mental wellbeing vis-à – vis skin health. Evenings are for walks in my lawn and family time, dinners are early, post dinners are for catching up with friends. I am a lawyer by qualification, and presently I am playing the role of nature's advocate who would try to defend it against the defamations made against it.
PLEASE DESCRIBE THE PROCESS OF LAUNCHING YOUR BUSINESS.
I'm powered by just one force, which is 'Passion' ; that's the element that keeps me going. I started to explore skincare as a hobby, and I spent time reading about it, but I never thought it could be business, and that it could be so influential. During my time in the UK, I shared acne and pigmentation repair formulas with my friends and  I simply moved around my flat with face masks made of turmeric extracts and fruit peels. My friends saw me as a great herbalist along with being a successful lawyer. The business was something God sent to me. I happened to post a picture of one of my face masks on Instagram, and the inquiries began pouring in. My credibility played a huge role here because my peers assumed that I was born to pursue something on those lines and was procrastinating needlessly. The pandemic period was ideal to start something new, and so I decided that I would be this one-woman company that would manage all departments from production to design. 
Nurtured by Nature was the only name I could think of, as all my potions are natural, without any artificial essence, coloring or preservatives. My concoctions have a short shelf life and need to be refrigerated. I am an entrepreneur whose passion has grown into business. Now I employ a gardener and two helpers who help prepare my mix-ins. The packaging is done by my mother who keeps the excitement on. Mostly I cater to the youth, but the popularity of my products has interested both men and women equally. Sales are encouraging and feedback is even more motivating. I haven't thought about producing makeup yet, but those who have used my products are now insisting on natural blushes and lipsticks, made of beetroot and hibiscus petals. 
Advertising is mostly done on Instagram, but the news of my business has spread by word of mouth. After the pandemic, I'm going to follow my legal career, but I am sure I will be able to continue my business side by side. I'm very glad that learning and practicing business management is helping me become a better lawyer. This is simply because I realize I'm facing obstacles, customers, problems and solutions. My company is underpinned by the divine nature itself, and nothing can be more glorious than this!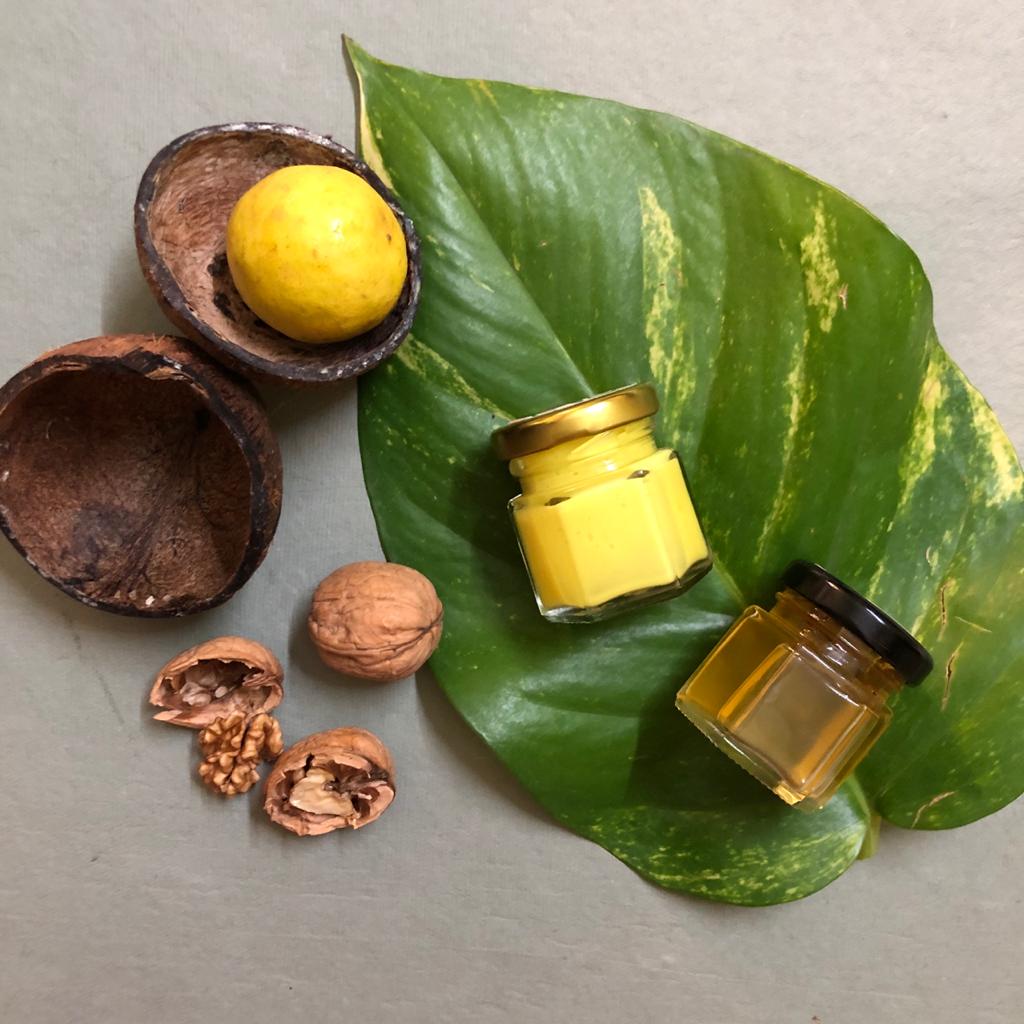 WHAT HAS BEEN YOUR BIGGEST ACHIEVEMENT AND YOUR BIGGEST CHALLENGE SINCE YOU STARTED YOUR BUSINESS?
Mental Health has always been a significant concern to me. I've seen close friends suffer from depression and low self-esteem due to fat shame. My business is trying to have a holistic approach. I wanted to sell more of the idea than the product, and my greatest victory came when inspired by me, many of my friends and associates started to pursue their passions and thought of creative ways to collaborate with me. I believe in the power of collaboration, which allows us to reach an entirely different level of achievement. If we do so, we are changing the environment and producing dramatically different results rather than attempting to persuade us that 'our way is the right one.'
People spoke about coronavirus on the one hand, and Antara's positive infection on the other. I am glad to have been instrumental in encouraging the youth to beat their lockdown blues. Where passion works, money follows, but right now I am mostly trying to support those who suffer from skin ailments and build their self-confidence.
WHAT STRATEGY DID YOU USE TO GROW YOUR BUSINESS? AND HOW?
When passion and innovation marry, they form a gorgeous couple. As for me, I am driven by both of them. When people cut trees to build new houses, I am trying to save every bit of seed, roots, paper and cardboard and use them in a unique manner. Living by example is the first thing that comes to mind for effective marketing. Since mine is connected to the skin, I make sure I become the model for my brand.
Customer satisfaction is my primary concern, and so I tailor my products to the taste of the customer. At 23 years of age, I'm not in a rush. I want to cherish every minute and feel positive and flourished instead of treating this as a purely commercial undertaking.
WHAT IS YOUR VISION FOR THE FUTURE OF BUSINESS?
To me, the future is right now. I want to grow and expand through creativity. I get tired of frequently repeated thoughts and ideas and believe in the power of change and continuous improvement. I'm hopeful, and I have a beautiful vision. In the city where I live, people send their cars from a distance away to pick up their orders, and I am not able to entertain any outstation clients. I hope to share my tips, tricks and recipes soon, and have franchises all around. 
Since I have spent a considerable amount of time within an international community, I have friends from Singapore to Kenya, Sri Lanka to Indonesia. I hope to create 'Nurtured by Nature' home labs, involving passionate individuals from all over the world, who grow their own herbs and use them in their products. I am setting up my own brand. 
RECOMMENDATIONS & FINAL THOUGHTS
ARE THERE ANY RESOURCES OR TOOLS YOU WOULD LIKE TO SHARE WITH OTHERS THAT HAVE HELPED YOU RUN YOUR BUSINESS?
I sincerely believe that today, men and women have overlooked the wealth that nature can freely provide. My main tools are kitchen spices, garden herbs, vendor fruit and grocery oils. I always manage to get tea and coffee from the farms, as I have friends who are eager to help. Since I encourage innovation and sustainability, my packaging is also special. Clients receive packets that they don't foresee, and the excitement starts there.
My tools are kitchen grinders, blenders, mixers, but the hidden ingredient that I bind to all my products is a lot of love and the essence of prayer. I started to believe that a personal touch is all that matters, and my handwritten note that goes with all my jars is what gives me happiness.
WHAT OR WHO HAS BEEN YOUR GREATEST INFLUENCE IN BUSINESS AND WHY?
The Pandemic! Had it not been for a long, tedious lockdown, I would not have had the time. The people I talked to, and even my advisors, who are senior partners in some of the biggest law firms in London, seemed to experience some sort of sorrow. Each and every one of them had been shaken out of their comfort zones. Staying indoors without feeling productive was a problem on its own. So I took it upon myself to unlock my energies and to pursue my passion. 
I was also influenced by my brother. He's the kind of guy who challenges the 'run the mill' activities. At the age of 13, he wrote a book about his school-time experiences entitled 'Potato Chips', which was eventually published by HarperCollins. As I shared my vision of the business with him, he gave me hope and confidence to move forward. Coincidently, around the same time, I also happened to read about the story of Madam CJ Walker, America's first female self-made millionaire, who made her fortune by creating and manufacturing a line of beauty and hair care products for women of color. Her story has made a major impact on my life.
WHAT ADVICE WOULD YOU GIVE TO OTHER WOMEN WHO WANT TO START THEIR OWN BUSINESS?
My advice to young women would be – carpe diem, "seize the day" my friend. A little bit of confidence blended with self-belief does wonders. One only needs to start.
WHAT BUSINESS IDEA DO YOU HAVE THAT YOU ARE WILLING TO SHARE WITH OTHERS? 
Edible Moisturizers for sure! Products that are so pure that you can actually eat them! Unless you've been living in the mountains of Tibet, you've probably heard the virtues of coconut oil, avocado, olive oil. I've experimented with them in my creams and I often cook with them. I aim to produce 100% edible mix-ins that guarantee the best results.
WHAT BUSINESS IDEA DO YOU HAVE THAT YOU ARE WILLING TO SHARE WITH OTHERS? 
Nurtured by Nature has launched a zero-waste initiative. Here I intend to make personalized gift bags and envelopes for making use of waste fabric and paper. Products will be displayed and sold. I expect to raise money from their sales that will go to charity. I strongly believe in the power of pro bono initiatives and the ways it can make a major difference.
Moreover, as a lawyer, I would personally like to support people in the underprivileged sector by offering free advice. That's what I did at Bristol Law Clinic University, and I'd like to start doing the same thing here.
Violeta Semenova
Founder
theBizLadies
Welcome to the Biz Ladies interview series!
If you're new to these series, I interview women entrepreneurs on how they started their business, what was the idea behind it, how they got where they are, the struggles, the reality and more.​
By sharing their stories, we want to inspire other women to get started.
​If you are interested to share your own story on the Biz Ladies LET ME KNOW!