Meet our entrepreneur of the day, Tammy Huynh, the CEO of The Creative Folks – a brand of content creators dedicated to supporting Atlanta's artists through a series of workshops, events, and content.
Starting as an introvert taught to live life quietly, Tammy had no prospects of starting a business. However, this all changed when she did a simple hoodie design for her high school's senior class after they expressed distress over one. Earning a $1000 from the hoodie sales, she decided that business life was the way forward so she started freelancing. She loved the idea of self-scheduling and managing her money and accounts.
After years of freelancing, she launched her business the same day she was supposed to graduate. A blog that teaches creative people how to overcome common freelance hobbies and has since grown on a massive rate.
In this interview, Tammy shares her entrepreneurial journey.
PLEASE TELL US ABOUT YOURSELF AND THE BUSINESS YOU STARTED?
To be fairly honest, business life has never been my thing. I always saw myself as extremely introverted and I hated doing sales. Just the idea of selling something was really scary to me. I was raised to live life quietly, go to school, graduate, get a job. Doing something like business was just out of my league and wasn't even considered.
It all started with a simple hoodie design and this surge of energy to rebel. My high school senior class was in distress over a senior hoodie (now that I'm typing it, it seems so dumb). We knew that the year before us had a really plain, ugly hoodie. We weren't happy with the design they pushed for us that year, so I stepped up to the plate. With the help of many making this smooth, I successfully designed and ordered 200+ hoodies and distributed them to our senior class. Being 18 years old and making $1,000 from your own hard work felt different! From there, I jumped into graphic design.
I challenged myself in college to NOT go to art school, mainly because I felt like art school was going to discourage me. The learning environment, I felt wasn't right for me. So? I hustled HARD. I worked many free internships, low paying design jobs, and eventually when I had my golden year of earning multiple awards with my work, I felt like "damn, I've made it here".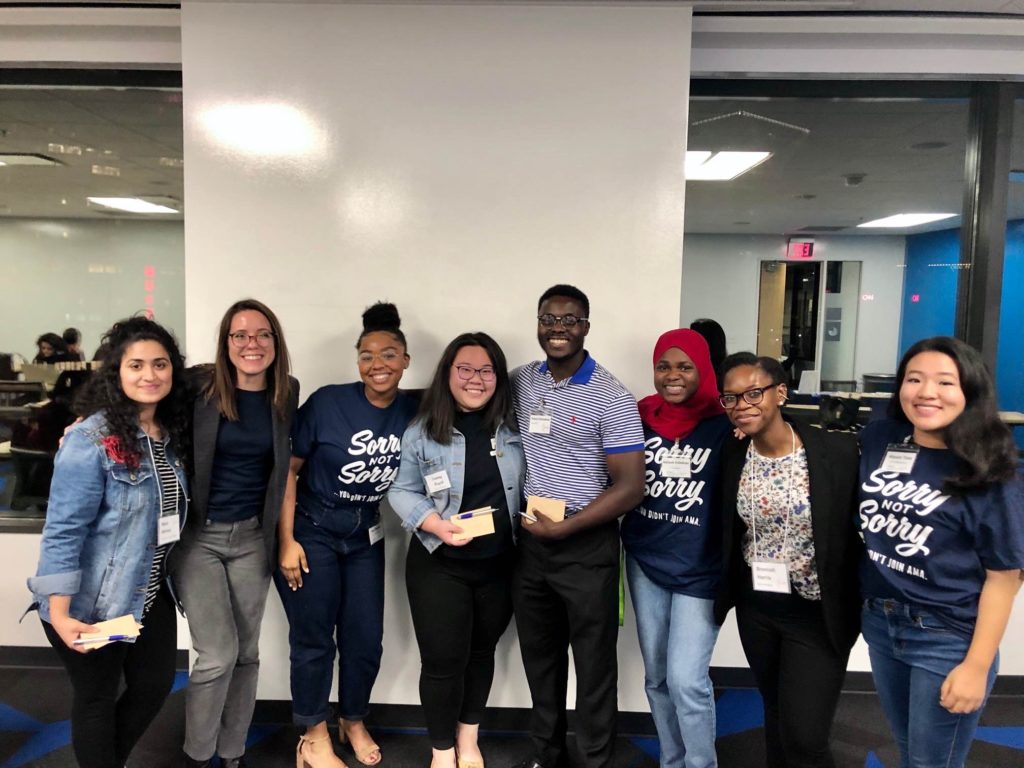 PLEASE DESCRIBE THE PROCESS OF LAUNCHING YOUR BUSINESS.
I felt like freelance was going to be my thing, forever. The self-scheduling, managing my own money and accounts, the idea of being "Business owner" was so fascinating. I continued that freelance journey all through college. One fine day in 2018, I was set to graduate with a degree in Sociology and minor in Education Psychology — I decided let's launch a blog that will teach other creative folks, how to overcome common freelance struggles because I figured it was going to be a fun hobby and it's something I'm passionate about.
We grew at a massive rate, where we had contributor writers all over. However, things took a turn for us as we realized the blog journey was just not our direction anymore. We trialed with turning into a merch store, we became a brand that partners with other people to do workshops, and we went to a lot of art markets. In the end only to realize that maybe this was our calling. That blog quickly transformed into what it is today, a hybrid company that's a content library for creatives to learn from and a branding agency.
The name "The Creative Folks"? I remember bothering my sister for HOURS on different names. Then it hit at the right moment and we've stuck with The Creative Folks since then. I felt like it was general enough that would fit so many concepts. Even today, I still think of new concepts that can fit under The Creative Folks as a company.
I'm not the type to tell people I started the company with 0$, it did cost and you have to be smart with the finances for it to succeed and not blow all of your funds!
WHAT DOES YOUR TYPICAL DAY LOOK LIKE AND HOW DO YOU STAY PRODUCTIVE?
It's actually, all over the place! I spend most of my day in an office, because…. I work a 9-5! 
I enjoy what I do outside of The Creative Folks because not only does it keep a stable income, it's also good to be outside of your craft. I work in a field where it's strenuous but it's a people-to-people which makes my day very customer-oriented.
Once I get home, I try to set aside the time but also work time. 
On a good week, I try not to work on my weekends at all, only working in the allotted time on weekdays.
The best way for me to stay productive is to have my to-do list. I literally write it on anything, it doesn't matter. The satisfaction of crossing off things on your list has helped me achieve a lot more than without it!
WHAT HAS BEEN YOUR BIGGEST ACHIEVEMENT AND YOUR BIGGEST CHALLENGE SINCE YOU STARTED YOUR BUSINESS?
Achievement wise, I think it has to be my team. Finding them was truly a blessing because they make every day a great day, especially with their motivation and positive energy toward growing the company.
Challenges, there's almost too many to mention. One has definitely been, slowing down. More than often, I get way too ahead. I try to think about the bigger picture and a bunch of what-ifs, instead of focusing on my current situation and improving that. I have to keep telling myself, "it's not a race, just work at your own pace".
WHAT STRATEGY DID YOU USE TO GROW YOUR BUSINESS? AND HOW?
Brand building is something I preach every day. I've studied brands for a while, and I didn't even know I was studying them! I've watched
countless brands go up and succeed as well as brands that fail.
While I don't claim to have the perfect formula, I do claim I know a company starts at branding. Especially in 2020 where authenticity and relatability are such a trend and a factor in the decision of whether or not you'd purchase from a company. I've tried to not only teach my team but to also remind myself to work consistently to BRAND, not to sell.
We can sell a T-shirt out to anyone if we really tried, but our goal is to make that person always come back for another product because they're a FAN of what we are and what we do! Outside of that, we grow our business via our agency work. We target businesses that need US but can't necessarily afford high-end branding services, we want to be that bridge for businesses and creators.
WHAT IS YOUR VISION FOR THE FUTURE OF BUSINESS?
I think we're moving in a direction of consistent pay and new hires for sure. We want to launch more projects and initiatives under our name so that will definitely take more hands on deck!
RECOMMENDATIONS & FINAL THOUGHTS
PLEASE RECOMMEND ANY RESOURCES AND TOOLS THAT YOU USE TO RUN YOUR BUSINESS.
I'm a heavy WordPress user and I've built The Creative Folks purely on WordPress. If I could recommend to everyone I would, but definitely look into what fits your means.
Outside of that, we want to provide these resources to others, so we collected and started a library where creators can learn here about business.
WHAT ARE YOUR FAVORITE BUSINESS BOOKS, PODCASTS OR BLOGS?
Some of my favourite podcasts are The Lightning Rod, Alignment is the new Hustle, Goal Digger and Genius Brain.
WHAT ADVICE WOULD YOU GIVE TO OTHER WOMEN WHO WANT TO START THEIR OWN BUSINESS?
Be patient. It's definitely not overnight and it may even take years. See your own business in intervals of years, for example, the next 1, 3, and 5 years — what do you see yourself doing, where do you see the business.
I think we often get too discouraged when something isn't working as we want it to. Therefore, the best way to counter is to not let it discourage you. 
Let yourself know that everything is a work in progress and it'll take time to complete! Also remember, your mental health is everything. Take care of yourself first, business comes when it wants to!
WHAT BUSINESS IDEA DO YOU HAVE THAT YOU ARE WILLING TO SHARE WITH OTHERS?
I think it would be great to have a platform where business owners can share their advice, talk about business, network, and also find recommendations for professional services.
While this sounds like any regular social media platform we currently have, I think it's important to have it more personal. Something that's perhaps localized in each city/state with a moderator that can actively engage the group.
There's a lot of these on Facebook Groups, which is great but sometimes there's a huge influx of information on there which makes it hard to filter through, especially newer businesses or even older businesses who may not need that same level of advice, etc.
Violeta Semenova
Founder
theBizLadies
Welcome to the Biz Ladies interview series!
If you're new to these series, I interview women entrepreneurs on how they started their business, what was the idea behind it, how they got where they are, the struggles, the reality and more.​
By sharing their stories, we want to inspire other women to get started.
​If you are interested to share your own story on the Biz Ladies LET ME KNOW!