Meet our female entrepreneur Julie Norman, a founder of Julie Norman Yoga. 
Julie is a registered Registered Dietitian specialized in eating disorders, who discovered her passion for yoga and decided to become a yoga teacher.
She combined both of her professions and specializes in yoga that enhances body image, aligned eating/exercise, and creative expression. She offers unique classes, workshops, and retreats in order to support people in leading peaceful and self-empowered lives through the path of yoga.
Read on to find out more about this inspiring female entrepreneur.
PLEASE TELL US ABOUT YOURSELF AND THE BUSINESS YOU STARTED.
Hi, my name is Julie and I'm the founder of Julie Norman Yoga. I grew up with a raging eating disorder and found recovery while in college. This recovery came mostly through what I later found to be the teachings of the path of yoga (not merely the poses). 
Recovery led to an interest in nutrition, specifically Health At Every Size and Non-Diet Approaches to wellness. I started the first version of my business, Real Nutrition, LLC, right after graduating with my Bachelor's Degree in Dietetics/Nutrition. 
I worked as a Registered Dietitian specializing in eating disorders treatment for 15 years and discovered yoga-practicing 6 years before becoming a teacher. Naturally, I started sharing it with clients and eventually shifted my business to be more yoga than nutrition-focused though I still specialize in this field.

I offer private coaching, group classes, workshops, and retreats. I created Body Karma Healing, a yoga-based program for healing body image, and eating challenges. There is a free Body Peace eCourse on my website. I've also created a Goddess Wisdom eCourse and have published two poetry books; Poems from the Path of Peace.
WHAT DOES YOUR TYPICAL DAY LOOK LIKE AND HOW DO YOU STAY PRODUCTIVE?
My day begins with my personal practice; meditation, Hatha or Kundalini yoga, then journaling/creative writing. Self-care comes before anything else and creativity is the priority over productivity. 
Next, my husband and I walk the dog together to connect and plan our day as we both work mostly from home. After breakfast, my workday begins with an Action Plan (I prefer this over "To-Do List"), checking email and managing social media. 
Some days I head out after that to teach classes in the community and see clients in their homes. Other days I see clients in my home studio or on-line. I also present wellness seminars for corporations and do some contract work as a remote health coach. 
Half a day per week is spent on short and long time planning, marketing, networking, financial management, etc. My day ends with playful activities like swimming in our lake, road or mountain biking, hiking, rollerblading, and such.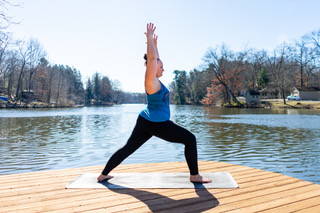 PLEASE DESCRIBE THE PROCESS OF LAUNCHING YOUR BUSINESS.
Right out of college I had the opportunity to work on a National Institute of Health Wellness study. I had always planned on doing things unconventionally. This was a contract-based position so I went ahead and set up an LLC and my private practice was born!
WHAT HAS BEEN YOUR BIGGEST ACHIEVEMENT AND YOUR BIGGEST CHALLENGE SINCE YOU STARTED YOUR BUSINESS?
I am most proud of my business being an expression of myself. I am proud of being brave and doing things against the grain. I am proud of turning my pain into passion and serving my community from the heart. There is nothing better than I client sharing how they feel seen, heard, and supported in our work together. 
My biggest challenge is marketing and "selling" with integrity. I found most of the methods used in the mainstream are manipulative. 
WHAT STRATEGY DID YOU USE TO GROW YOUR BUSINESS? AND HOW?
The majority of my business comes through relationships. I grow my business by focusing on authentic human connections in my community. Integrity in networking is essential. Social media marketing that is intuitive, not strategized. My business grows as I grow.
WHAT IS YOUR VISION FOR THE FUTURE OF BUSINESS?
I am considering turning Body Karma Healing into a book and I will likely release my third book of poems soon. I would like to add destination retreats and more workshops beyond my region in 2020 and beyond. 
RECOMMENDATIONS & FINAL THOUGHTS
ARE THERE ANY RESOURCES OR TOOLS YOU WOULD LIKE TO SHARE WITH OTHERS THAT HAVE HELPED YOU RUN YOUR BUSINESS?
Divine Feminine Yoga is a great resource for yoga teachers and holistic health entrepreneurs.
WHAT OR WHO HAS BEEN YOUR GREATEST INFLUENCE IN BUSINESS AND WHY?
I am most inspired by the other women in my community that bravely share their passion and gifts through their business.
WHAT ADVICE WOULD YOU GIVE TO OTHER WOMEN WHO WANT TO START THEIR OWN BUSINESS?
Do it. There is no failure, only learning. Expressing yourself is healing and that heals the world. Most importantly, don't sell out. Trust your gut and stay true to you.
WHAT BUSINESS IDEA DO YOU HAVE THAT YOU ARE WILLING TO SHARE WITH OTHERS? 
A business management app for yoga entrepreneurs. Especially with the functionality to create "OM work" assignments for students and track sessions.
IS THERE ANYTHING ELSE YOU WOULD LIKE TO SHARE WITH OUR READERS?
Blessings of peace and health to you and yours!
Violeta Semenova
Founder
theBizLadies
Welcome to the Biz Ladies interview series!
If you're new to these series, I interview women entrepreneurs on how they started their business, what was the idea behind it, how they got where they are, the struggles, the reality and more.​
By sharing their stories, we want to inspire other women to get started.
​If you are interested to share your own story on the Biz Ladies LET ME KNOW!