Today our interview is with Jocelyn Goh, a video content creator and the founder of JUSGOLive based in Singapore. JUSGOLive was founded to enable and empower businesses to use and create video content easily.
You'll hear how she took the move and left her corporate job to create videos full-time.
She, also, gives some interesting insight into her business as well as her previous career working as a lecturer. Read on to learn more on her journey of becoming a video content creator.
PLEASE TELL US ABOUT YOURSELF AND THE BUSINESS YOU STARTED.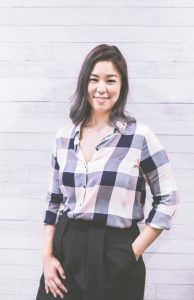 I'm Jocelyn, Creative Director & Co-founder of JUSGOLive, a video content company. JUSGOLive was founded in 2019 to enable consumer businesses to use live video as a marketing channel to better engage current customers and reach out to new customers.
Besides live video, we also enable and empower businesses with sustainable video content creation through training & coaching.

Prior to setting up JUSGOLive, I was a lecturer for 5 years, specialized in the training of Retail, E-commerce and Digital Marketing. It was during this time, in my work collaborating with Alibaba, that I was very much exposed to the use of content, video and livestream in the China e-commerce landscape, and after some planning, I decided to leave the corporate world to set up my business offering sustainable livestream & video marketing solutions to SMEs.

My earlier career experience in Retail & Sales management in consumer retail helps me to understand the challenges that consumer business owners face in sales, marketing & operations and this helps me to connect well with my clients.
Related: On Starting A Video Production Company That Went Global
WHAT DOES YOUR TYPICAL DAY LOOK LIKE AND HOW DO YOU STAY PRODUCTIVE?
My official workday starts from noon where I break my intermittent fasting cycle for the day. Unofficially, I start my day around 10 am to check on 'unplanned' work like emails, my own social media content, reply to social media messages and document down new ideas. Official planned work is done from 12-8 pm. After 8 pm, I'm back to the 10 am cycle until around 10 pm. Mondays to Fridays are sometimes filled with client & work meetings so I usually work on my video projects over the weekend.

In terms of productivity, I ensure I make use of online cloud tools so I can access my information wherever I am and can work on them whenever I have any pockets of time on the go. For e.g. Canva for graphics, Google Suite for email & documents. I also use Evernote to jot down ideas and notes. It is extremely important to document any relevant information and random ideas to refer to as I use them for product development. I used to always think I'd remember what I saw or thought of, but that is not the case 😆😆😆, especially when I'm busy coming up with ideas for clients.
PLEASE DESCRIBE THE PROCESS OF LAUNCHING YOUR BUSINESS.
Ideation in starting a business to promote live video marketing started about 2 years back when I was still employed as a lecturer.

I noticed that live video was very much underutilized in Singapore as compare to some of our SEA & South Asian neighbours and that businesses did not know enough about the formats and technicalities of producing affordable live video content for social media to create something that would reflect well on the brand.
The current landscape in Singapore is that live video is used for direct selling & bidding sales, giving a cheap image to consumers. Businesses with brands do not know otherwise to approach this new sales & marketing channel which was gaining a lot of consumer attention.

After intensive research and trials, I developed a way to produce an online live show series in an affordable way. This allowed businesses to host their own show, with multi-cam, text and graphic support, very much like a TV show, on Social Media to reach their current & new consumers.
This show would work as a marketing funnel for the business, to increase their revenue and encourage customer loyalty. The entire research process started while I was still employed in my previous job, and I must have spent thousands of dollars on equipment.

Besides this, I also had friends who were hiring me on the side for their video projects, which was also another area I was exploring while I was employed. Everything just gelled together and so I started to consider starting my business.

I planned my financials and savings for about a year before I completely left full-time employment to start running the business with a silent partner. Other than equipment, there was no major financial investment needed. Being a company of content production, we naturally created all our content assets in-house.

Our 1st livestream production project actually came in even before the company was officially formed, and through social media content and sharing, we have gained clients for smartphone creation training (part of our enable & empower initiative) and marketing video production along the way.
WHAT HAS BEEN YOUR BIGGEST ACHIEVEMENT AND YOUR BIGGEST CHALLENGE SINCE YOU STARTED YOUR BUSINESS?
Biggest Achievement: The biggest achievement so far is producing a 10 part live online series for a client where he shared his expertise online, without any direct selling, to build his personal brand and to bring attention to his retail business. This series reignited his dormant social media followers and brought new attention to his store.
Consultation appointments and product sales increased as a result. On top of that, with our unique strategy, he started building a customer database for future digital marketing, built up a content database to increase their online presence. All with just 2 hours of commitment per month.

Biggest Challenge: The biggest challenge is to stay focused on the main objective of the company, and not to be lured into random, unrelated opportunities that present itself along the way.
That being said, I view these opportunities with an open mind as they could also become new offerings, but if after serious consideration they don't fit, we'll decline.

As a new company, it can get tempting to take on whichever projects present itself, and I constantly remind myself to stay aligned and focused.
WHAT STRATEGY DID YOU USE TO GROW YOUR BUSINESS? AND HOW?
My key strategy now is to keep costs low, passing the affordability to our clients, and to qualify the right kind of clients to work with.

Being a new and small company, we want to channel our efforts to the right kind of projects which are aligned with what we do, and those are video and live video marketing & enabling.

We've been approached for social media page management & graphic work which we've redirected to partners.
The main goal now is to continue building up our portfolio to be able to showcase more use case scenarios.
WHAT IS YOUR VISION FOR THE FUTURE OF BUSINESS?
Our plan for the next 2 years, is to become known as the go-to online video expert. We focus on the content design, optimized for marketing objectives and not production technicalities which more production houses do.
Most of the small, medium companies we work with do not have a focused in-house marketing team and rely on our expertise to advise them, thus working with the typical production houses do not necessarily work well for them.
RECOMMENDATIONS & FINAL THOUGHTS
PLEASE RECOMMEND ANY RESOURCES AND TOOLS THAT YOU USE TO RUN YOUR BUSINESS.
I love Google Suite for its cloud hosting of documents, domain email and free Google sites which we use to host content.
For online content, Canva is a great & quick tool I frequently use to create social media graphics & video content, especially when my works are also available on an app, allowing me to work on the go.
WHAT ADVICE WOULD YOU GIVE TO OTHER WOMEN WHO WANT TO START THEIR OWN BUSINESS?
Believe in yourself, talk to more people to find out the demand for your product or solution and put yourself out there both online and offline.

I strongly recommend starting using video to brand yourself and get yourself seen & heard.

I notice more men using videos to personal brand themselves and women should do this more, which is why I'm working on a new initiative to help more women get seen in their own videos.
WHAT BUSINESS IDEA DO YOU HAVE THAT YOU ARE WILLING TO SHARE WITH OTHERS? 
I'd love a video editing software that's hosted on cloud so I can edit projects across my desktop and phone.
Violeta Semenova
Founder
theBizLadies
Welcome to the Biz Ladies interview series!
If you're new to these series, I interview women entrepreneurs on how they started their business, what was the idea behind it, how they got where they are, the struggles, the reality and more.​
By sharing their stories, we want to inspire other women to get started.
​If you are interested to share your own story on the Biz Ladies LET ME KNOW!